Goodness Invasion to give away school supplies to kids Aug. 10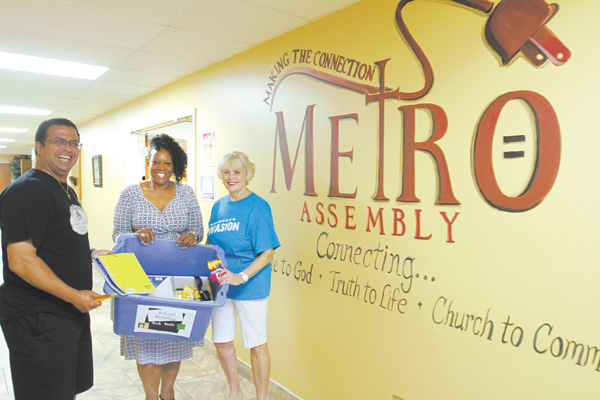 ---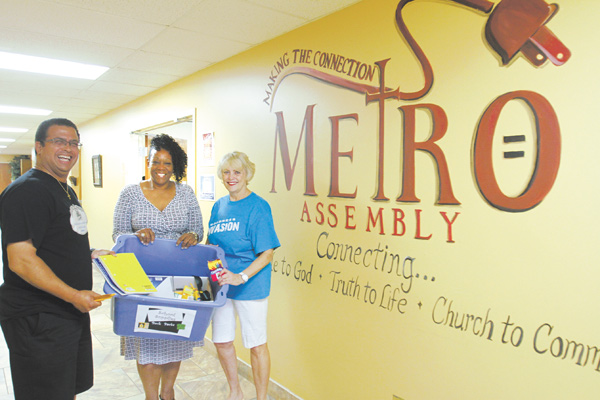 Photo
Supporters of the Goodness Invasion, planned Aug. 10 at the Covelli Centre in Youngstown, show a sampling of some of the school supplies being collected to distribute at the event. From left are Pastor Rafael Cruz of the Jericho Project and Unity Baptist Church in Boardman; Kathy Hammond, president of Finer Things Academy, which is a co-sponsor of a "Let's Move" block party planned the same day downtown; and Anita Oles, food pantry coordinator of God's Warehouse at New Life Church in Poland.
By LINDA M. LINONIS
youngstown
A collaboration of churches and faith-based and city organizations are working hand-in-hand to present Goodness Invasion 2013.
The fourth annual event is billed as "meeting the needs of the Mahoning Valley" in terms of food, entertainment and community. The organizations and individuals involved are dedicated to doing just that.
The event is really two in one.
There will be distribution of backpacks and school supplies along with food at the Covelli Centre sponsored by Community Iniative to Reduce Violence, which works with NOW Youngstown on summer outreach events; Jericho Project; and New Life Church in Poland.
Finer Things Academy, Community Mobilization Coalition and CIRV will host a "Let's Move" block party on East Federal Street downtown.
New Life's God's Warehouse, celebrating a decade of service, feeds 300 to 400 families monthly. Anita and Norman Oles are food pantry coordinators, and Amanda Russo of New Life is a Goodness Invasion coordinator who is handling the logistics of layout and tents.
Anita Oles said Pastor Juan Rivera of New Life shared his "mission to help the city" through the Goodness Invasion. She added the event takes its name from the outpouring of goodness the event represents.
The event draws about 2,000 families and some 6,000 people. The collaboration of faith and secular groups brings together resources and people.
Pastor Rafael Cruz of the Jericho Project and Unity Baptist Church said financially stretched families face a dilemma in providing school supplies for their children, which multiplies with families with more than one child.
In the Jericho Project, which began in 1997, some 20 city and suburban churches work together to provide school supplies to students in need. For Pastor Cruz, the Jericho Project reflects the "church of Youngstown" and congregations of different denominations working together.
Youngstown city schools require a clear backpack for high school students so families must provide that. For middle and elementary school students, backpacks of any style and design are permitted.
Pastor Cruz said this year's goal is distribution of 3,000 backpacks; last year, 2,300 went to students. The backpacks are filled with school supplies.
He added, "People are struggling financially. They don't make enough to cover everyday life." The pastor said such a giveaway eases the burden for many families who are working poor.
The pastor said this event demonstrates how the community at large cares. "Somehow, what we need, we get," he said.
Pastor Rolando Rojas of Spanish Evangelical Church said a mission of the project is to comfort one another as we are comforted by God. "It's up to everyone to do their part."
Kathy Hammond, president of Finer Things Academy, said the nonprofit organization teaches social skills to students in third through sixth grades. The academy also arranges intramural sports activities, coordinated by David Hight, including softball, basketball and volleyball as another way to engage youth.
The academy co-sponsor s the "Let's Move" block party geared to health-oriented activities. There will be Zumba, line dancing, basketball and an obstacle course. Health information will be available.