Goodies opens in Liberty's MetroPlex
---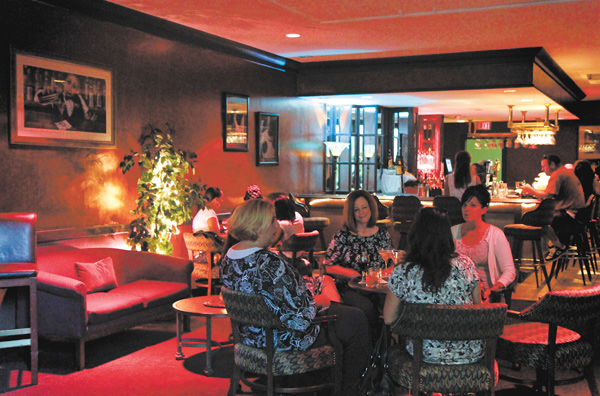 Photo
Goodies Restaurant celebrates its grand opening Thursday. The restaurant occupies the MetroPlex at Belmont Avenue and Motor Inn Drive in Liberty.
By Lee Murray
TheNewsOutlet.org
Liberty
Goodies Restaurant opened its doors to the public Thursday night, welcoming diners to its new location inside the MetroPlex on Belmont Avenue.
"Our food is unique for this area," said owner Roy Hanna. "We do kosher steaks and kosher chicken. Our hummus is made from scratch, and everything is fresh. People love our food."
Hanna recently relocated Goodies from a smaller location on Mahoning Avenue in Austintown to the Metroplex. He started refurbishments in April.
"The dining space at the old place was pretty small," Hanna said. "It would get really crowded. At the weekend, people would come in and if there was nowhere to sit, they'd leave. Here is much bigger."
Goodies has taken control of the restaurant area, bar and the banquet room in the MetroPlex. Remodeling work has been underway for three months. Hanna said he has plans to continue refurbishing that side of the building and reopen Choices, a bar and nightclub that used to operate when the hotel was still owned by Holiday Inn. That could happen in less than two months, Hanna said.
"We're working on everything in this whole building, trying to bring it back to life," he said. "It's been neglected."
Hanna said he saw the building's potential last spring when Goodies catered a couple of events at the MetroPlex.
"It's an old building, but there's no building like this in the area," Hanna said. "My kitchen [in Austintown] used to be as big as this bar, maybe smaller. The kitchen here is unbelievable — state-of-the-art."
Hanna employs 25 staff members at the new location. When the conference and banquet facilities open, he said, he'll need to hire more. He's already started taking bookings.
"I already have nine reservations for the banquet space," he said. "I have a craft show coming and some weddings booked, and we're not even open yet."
The move and the remodeling work has taken substantial investment, Hanna said. He hopes that the hotel side will invest in the building in the same way he has.
"We're not done putting investment into this. As I stand here, we're putting money into it," he said. "When they see what we're putting in here, they'll see that there is potential to bring this place back to life."
Hanna began working in the restaurant trade in his native Lebanon. He moved to the U.S. in 1997, working in restaurants in Detroit and Cleveland before moving to the Valley. His investment with Goodies marks his foray into restaurant ownership.
"I know for a fact that we're going to make it happen here. I have the managers, the staff and five excellent chefs running amazing food. I don't see how it couldn't happen."
Hanna added that he also owns RBH Cleaning, a commercial cleaning business based in Youngstown that employs about 80 people.
TheNewsOutlet.org is a collaborative effort among the Youngstown State University journalism program, Kent State University, University of Akron and professional media outlets WYSU-FM Radio, The Vindicator, The Beacon Journal and Rubber City Radio, both of Akron.