Aesop's fables at the library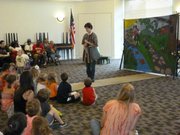 ---
By ELISE McKEOWN SKOLNICK
A group of actors from the Youngstown Playhouse youth theater acted out five of Aesop's Fables at the Austintown library during the theater's Summer Library Tour 2013, "A Bagful of Fables" July 17.
"We're really thrilled to have them here," said librarian Kathe Orr at the event.
Aesop, played by Brady Bizon, started the show off by explaining he had invented 200 stories and telling the audience that actors were going to show them five of the stories.
The children learned through watching the fables. 'Beware of flattery,' was learned through "The Fox and the Crow," and the phrase 'sour grapes,' when someone no longer wants something they thought they did simply because they can't have it, was explained by "The Fox and the Grapes."
When introducing "The Tortoise and the Hare," Bizon told the children about hares.
"A hare is kind of like a rabbit, but bigger," Bizon said.
The audience also had the chance to participate. At the end of "A Wolf in Sheep's Clothing," one sheep is eaten by the wolf. Bizon, now playing a farmer, asked the audience if they wanted a different ending. The "yes" votes won, and this time the wolf ended up dead. The children cheered.
Gabe Faunda of Austintown said "A Wolf in Sheep's Clothing" was his favorite story.
"Because they switched the stories around," he said. "They made it happy and they made it sad. It was fun."
Faunda was glad his family attended.
"I thought it was very good," he said. "It was very entertaining. And all of us loved it."
Faunda's brother, Gregory, enjoyed "The Fox and the Grapes."
Gregory said he was sure he could grab the grapes, unlike the fox in the story, Following the plays, he had a chance to try. Though he didn't get them, he said it was fun. He also had his picture taken with the Michael Appugliese, the actor playing the grapes.
Gracie Faunda liked the wind, from "The Sun and the Wind," the fifth fable acted out. The Wind was played by Kasey Sheridan.