Youngstown cops urge 13 boys with records to turn lives around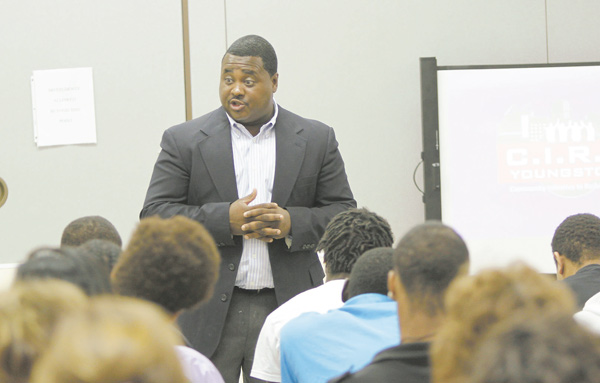 ---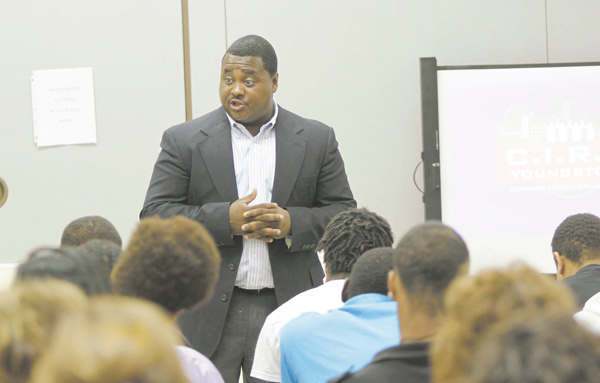 Photo
Guy Burney, coordinator of the Community Initiative to Reduce Violence, talks to a group of juveniles with a history of anti-social behavior at Mahoning County School in Youngstown on Wednesday.
SEE ALSO: Youngstown cops sweep city for curfew violators
YOUNGSTOWN
Thirteen "at-risk" boys with histories of juvenile criminal activity were repeatedly told that the path they were on would lead to prison or death.
Some didn't look up while others paid attention during a Wednesday event at the Mahoning County School on the city's South Side.
The event was a "call-in session" that had numerous speakers urging the 13 — who police have identified as up-and-coming criminals in the city — to get off the dangerous path they're on. The boys ranged in age from 13 to 17.
"There is a chance you may not make it into adulthood if you continue on this track," Police Chief Rod Foley told them. "You've got to change your lifestyles, and we're here to help you."
Among those at the event were organizations that help students get GED diplomas and job training.
"We're tracking you," Foley said. "We're sick of you guys. Believe me, we're targeting you. We've got to stop this gang-murder stuff."
When juvenile probation officers asked the boys if they knew who they were, more than half of them raised their hands.
"You've been selected for a reason," said Jerry Tuscano, a probation officer who's also on the Mahoning County Violent Crimes Task Force. "You weren't picked out of a hat."
Tuscano said he's been to every one of the boys' houses searching for guns, drugs and stolen property.
One of the boys, Ruben Noel Sanchez III, urged the others to straighten out their lives before it's too late.
In talking about the police, he said, "Everything we do, they know. They already know exactly where we're at. If you shoot someone, they're going to know. They're giving us a chance to make things better. It's not too late."
Sanchez said, "I did my time, and I'm out. I'm doing good. I'm about to graduate and go to a trade school. I'm not going to be an angel, but I'm going to do the best I can."
Sanchez said he had six friends who are dead, and spoke of his brother, Ruben Joel Sanchez II, who was recently sentenced to 10 years in prison for two counts of illegal possession of weapons because of a previous conviction, felonious assault and participating in a criminal organization.
Also at the session were four inmates from the Grafton Correctional Institution in Lorain County.
Jaron Jackson was only 18 when he was convicted of numerous charges, including participating in a criminal gang and carrying a concealed weapon, when his gun was used in the 2005 murder of an 11-year-old in Cleveland.
His prison release date is March 5, 2014.
"I'm just like you were," Jackson told the boys. "You are me if you continuously make these choices."
He added that his "friends" have virtually abandoned him during his 81/2 years in prison.