High school for autistic teens to open in Youngstown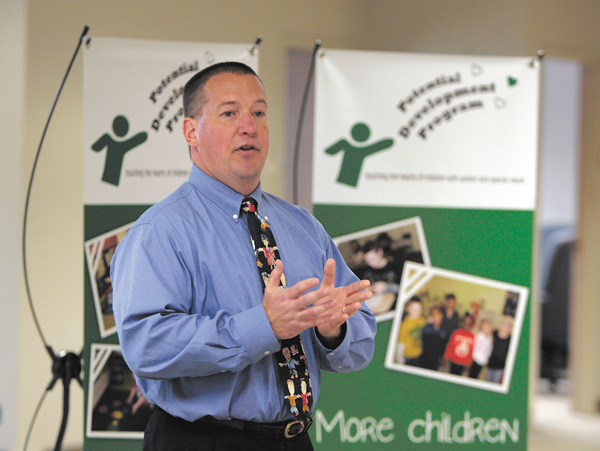 ---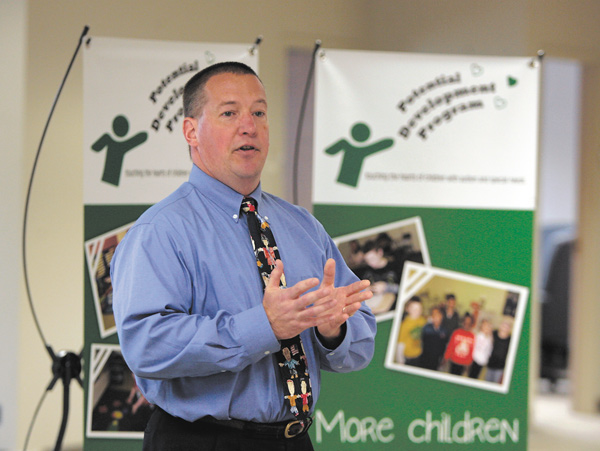 Photo
Paul Garchar, Potential Development Program executive director, talks about the new high school on Market Street in Youngstown. The school, one of only three of its kind in Ohio, is expected to open in September.
By Denise Dick
Youngstown
Beginning this fall, teens with autism will have the option of attending a new high school tailored to their needs.
The Potential Development High School for Autism is expected to open in September at 2405 Market St., the former Anthem building. School officials say it will be one of three high schools of its kind in Ohio.
"We're pleased to be able to meet the community's needs," said Paul Garchar, executive director at the Potential Development Program.
The program includes two preschools and a nonpublic charter school.
Lisa Robinson's 12-year-old son, James, 12, will be an eighth-grader at Potential Development this fall. She plans to send him to the high school in fall 2014.
"Before this, there really was no choice for us in the Mahoning Valley," she said.
Robinson would have relied on services provided by the county educational service center if the new high school weren't available.
"James has the oppor- tunity to continue with the students he's always known," she said. "We have the opportunity to have choices."
The 36,000-square-foot high school building includes three floors. Board member Mike Fagan of Olsavsky Jaminet Architects Inc. said the location fits for the school because it's on a main thoroughfare and it has on-site parking.
The main and first floors will have eight classrooms and testing and training rooms. Classrooms will offer SMART boards and technology. The lower floor will provide a multi-purpose room and storage.
"We'll have what we call a life-skills center or an apartment environment," Fagan said. "Students will learn how to live on their own as they go into the real world."
An elevator will be added in the future, he said.
Other features include a fine arts learning center, science lab, occupational and speech therapy rooms, sensory rooms, cafeteria and an enclosed outdoor recreational area.
Garchar estimated the total cost at $750,000.
He said the program has been hearing from parents for two to three years about the need for a school for students in ninth through 12th grades. There are programs for younger children and some for adults, but there's a gap where high-school students are concerned. Parents sent their children to traditional public schools or worked with the county board of education.