Salem Community Theater "Hairspray" will feature a cast of 40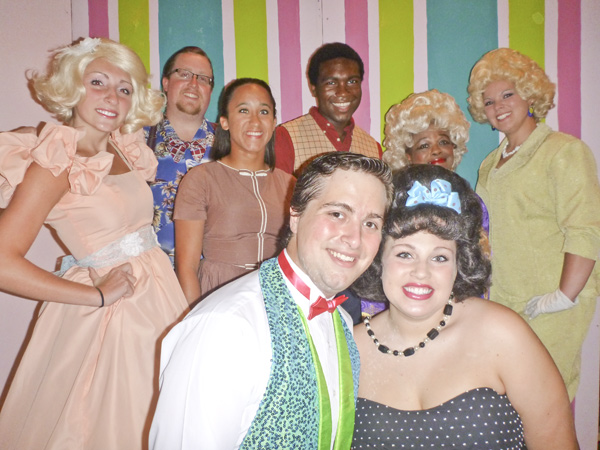 Photo
The lead actors in the 40-member cast of Salem Community Theatre's production of "Hairspray" are (front row, from left) Nick Caruso and Morgan Zamarelli; (rear, from left) Rachel Ruggeri, Jeff Cornfi eld, Brittany Benedetti, William Tipton, Lois Thornton and Alaina Felgar.
Staff report
SALEM
Salem Community Theater will present the musical romp "Hairspray" this weekend and next, with John Zamarelli, West Branch High School's ambitious theater and choir chief, as director.
Zamarelli has assembled a cast of more than 40 actors for "Hairspray," which is based on the 1988 John Waters film. The musical is set in a time of change in racial relations and attitudes, and includes 1960s-style dance and R&B music.
"Hairspray" is set in 1962 Baltimore, where "pleasantly plump" teenager Tracy Turnblad (played by Morgan Zamarelli) has a dream to dance on The Corny Collins Show, a local TV dance program. She works at attracting the attention of one of the show's regulars, heart-throb Link Larkin (played by Nick Caruso) while alienating Nick's girlfriend, Amber Von Tussle (Rachel Ruggieri).
Tracy wins a role on the show and launches a campaign to integrate it. All the while, the antics and attitudes of her parents (played by Jeff Cornfield and Tyler Stouffer) supply some outrageous humor.
The cast also includes Parker Zamarelli, Julia Harris, Alaina Felgar, William Tipton and Lois Thornton.
The original Broadway production of "Hairspray" opened in 2002 and ran for seven years, garnering eight Tony Awards.
It has been several years since Zamarelli has directed at Salem, but he jumped at the opportunity.
"I've wanted to do this show at my school for some time because of the great music and the dancing, but wasn't able to assemble the right cast," he said.
Not only is Zamarelli directing SCT's "Hairspray," but he also is music director and set designer.
SCT Managing Director Gary Kekel, who has worked as musical director with Zamarelli on several productions at West Branch High, said Zamarelli was the obvious choice for the job. "We needed someone who could relate to the cast, step in and take control on multiple levels, and John has a great reputation at West Branch for putting on spectacular and well-produced shows," said Kekel. "He's a one-man dynamo with the energy, talent, connections and vision to get it all done."