Published: Thu, August 1, 2013 @ 12:15 a.m.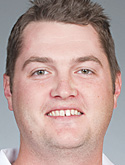 Photo
RELATED: Elite field drawn to Firestone
By Ryan buck
warren
Warren native Jason Kokrak will be in the field for the PGA Championship, set for Aug. 8-11 at Oak Hill Country Club in Rochester, N.Y.
It will be the second major golf championship of his career — first as a professional — and his first since he qualified for the 2007 U.S. Open as an amateur.
"It's hard to look back that far," Kokrak said in a phone interview Wednesday. "It's been so long to put yourself back in that position."
He is currently visiting his hometown and practicing at Trumbull Country Club and Avalon Lakes Golf & Country Club before driving to Rochester early next week.
Kokrak's appearance in the season's final major championship will highlight his second year on the PGA Tour.
He won two Nationwide Tour events in 2011 and has been in contention several more times on the PGA Tour since his U.S. Open appearance at Oakmont Country Club in Oakmont, Pa.
"My game's come a long way. I'm way more consistent than I used to be," said Kokrak, who now resides in Charlotte, N.C. "If you can hit fairways, you're ten-fold ahead of most of the field."
Kokrak's best finish this season was a tie for third place at the AT&T National in June at the Congressional Country Club Blue Course, host of three U.S. Opens and one PGA Championship.
Success there in major championship conditions, he said, gives him confidence headed into next week despite having never played at Oak Hill.
The Donald Ross-designed layout has hosted three U.S. Open tournaments and two PGA Championships, the most recent was 2003. The 1985 Ryder Cup was also played there.
"My goal is just to play solid golf," he said. "First, I'd like to make the cut, but my goal is to win the golf tournament."
Kokrak's preparation has not changed significantly, even while looking toward his first major championship as a pro.
"I'll probably concentrate harder on my wedges and distance control with how far to hit the golf ball, but I won't make any major changes," he said. "The more changes you try to make to your swing, the more pressure you put on yourself."
Kokrak, a Warren JFK graduate and standout on two Division III state championship teams, qualified on the strength of his position on the tour's money list, calculated since last year's PGA Championship.
"Hopefully it's the first of many more I get to play in," said Kokrak, who turned professional in 2008 after his college career at Xavier University.
He currently sits in 82nd place in the FedEx Cup standings.
Kokrak has earned two other top-10 finishes thus far in 2013, at January's Humana Challenge, a tie for eighth, and a ninth place finish at the Shell Houston Open in March. Most recently, he finished in a tie for 31st at the RBC Canadian Open.
He will join defending PGA champion Rory McIlroy, 2013 British Open champion Phil Mickelson, and Tiger Woods in the 156-player field, perennially one of the strongest in golf.