British Soccer Camp teaches game skills along with sportsmanship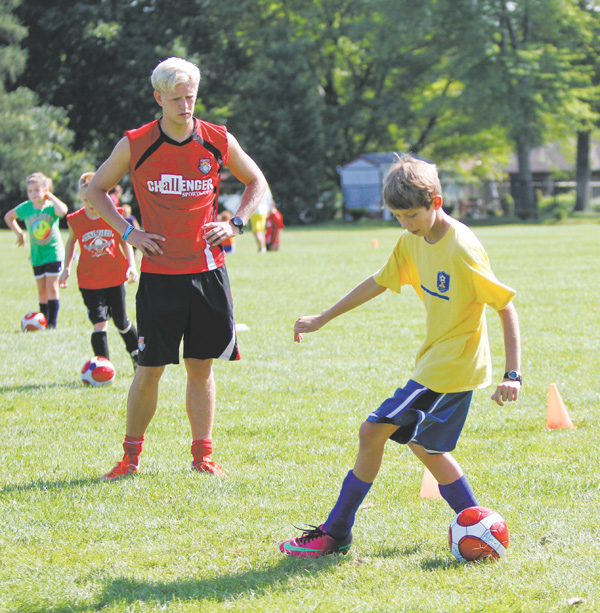 ---
Brittish Soccer Camp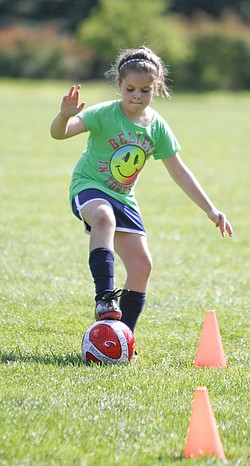 Gallery
week-long soccer camp focuses on building skills to play the game along with sportsmanship
Soccer program teaches game and sportsmanship
By LINDA M. LINONIS
Youngstown
Coach Simon Slater shouted out to the young players at British Soccer Camp — "Are you ready?
Each responded, "I was born ready."
That's the kind of enthusiasm and anticipation that a weeklong soccer program at Wick Recreation Area of Mill Creek MetroParks generated. The camp concludes Friday.
Annette Vasko, facilities manager at the park, said this is the second year of the partnership with Challenger Sports, based in North Carolina, which offers the program and provides coaches.
"The kids can experience British soccer," she said, adding the program helps develop skill to play the game and build self-confidence.
Vasko said she liked the idea that sportsmanship is emphasized.
The camp, which attracted 39 participants from 3 to 16 years old, offered various sessions based on age.
Though there's a hefty dose of skill-building, words imprinted on the soccer balls — respect, responsibility, integrity, leadership and sportsmanship — reflect the camp's other lessons to be learned.
Slater, 24, of West Midlands, England, is a coach along with John Evans, 20, of Ireland, and Kara Wyn Jones, 21, of Wales. When he's home,
Slater plays for the Stowbridge Swan team, which he described as semi-pro.
At the Wick Rec Area, comments of "well done" were frequent. Slater said the goals of the camp "is to get them comfortable with the ball" by having a lot of contact with it and to have fun.
Practicing skills such as passing, dribbling, shooting, heading and volleying were a mainstay. "We want them to learn the skills but have fun in the process," Slater said.
Slater said he always is impressed that most children start out tentative the first day and by the end of the camp have gained confidence. He added it's nice to see shy kids become more sure of themselves.
Slater, who has played soccer all his life, said the camp focuses on more than learning physical skills to play the game. The game is another way to teach children about respect, responsibility, integrity, leadership and sportsmanship. Those qualities, Slater said, describe those who play fairly.
"Those things go with teaching the sport," Slater said. "We hope those ideas carry into their everyday lives."
Alec DeBaldo, 12, said he liked the camp because it was fun, and he wanted to improve his foot skills.
Fellow player Connor Morton, 12, said he "loved to play soccer" so coming to the camp was important to him. He wanted to improve his ball control.
Both boys said they felt it was important to play with sportsmanship in mind.
The camp, Evans said, also helps children with their coordination and understanding of the game.