Explosion levels vacant South Side home; gas still on
---
Staff report
YOUNGSTOWN
They were literally coming out of the woodwork on a South Side street after a home exploded at Rosedale Avenue and Cohasset Drive.
House Explosion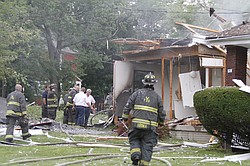 Gallery
Residents from all over the neighborhood flocked Wednesday morning to the scene. Some who live a mile away, taking pictures of the destruction with their cell phones, said the blast rocked their homes and knocked items off their walls.
Pieces of the home were scattered over a half-block area, as were bits of glass, charred insulation,large wood frames and other pieces of lumber and even parts of the basement.
Fire officials say the house at 535 W. Cohasset Drive was vacant but still had natural gas service. No one was injured. Chief Fire Investigator Capt. Alvin Ware said Wednesday an official cause has not been determined. He said Dominion East Ohio will do tests to make sure a faulty gas line did not cause the explosion, and investigators are also trying to find out whether perhaps someone stealing gas appliances or copper pipes is to blame. Ware said the gas stove is missing, and a refrigerator was taken a couple of months ago.
The explosion wrecked a home next door at 539 Cohasset Ave., where an elderly couple was rescued. The 539 Cohasset Ave. home had almost all its windows knocked out, warped siding, and it appeared to be leaning.
John Mack III of 539 Cohasset said he was sleeping and was awakened "by glass falling into the bed."
A neighbor helped Mack and his wife, Wanda, from the house. She was being treated for minor injuries. The couple has lived there for 41 years.
The 535 house has been abandoned for a while, Mack said. "But somebody broke into that house last night. I heard someone in there about 1 a.m.," he said.
Scott Holley of Boardman was in the area to do home maintenance work on nearby Regent Street.
"I heard a loud boom. I was in my car when I heard it. Some neighbors came outside, and I said, 'Where did that sound come from?' and they said down the street, so I came down here. I saw the flames and smoke.
"I got out of the car and asked the neighbors if anyone lived in the house that had exploded. They said no," but added that a couple was stuck in the adjacent house, Holley added.
Holley, formerly a firefighter in Orange County, N.Y., said he grabbed a fire extinguisher from his car, and then he and several other men entered the house and helped the Macks get out.
"We had to just clear the glass away from the steps so he could come down the stairs," after the rescuers helped the man put his shoes on, Holley said.
Betty Croft, who lives across the street, said she saw someone from the gas company read the meter there Tuesday.
"He wasn't shutting off the gas. He was just checking the meter there as he was going through the neighborhood," Croft said.
At least four homes across the street, including Croft's, had broken windows. Debris included a large amount of glass all over the street and in neighbors' yards more than 100 feet away.
"I was inside the house, sitting right there, watching TV, and next thing, you know, I heard this big boom," said Carrie Weaver of 540 Cohasset, directly across the street. The explosion broke all the windows while she was in her dining room.
The occupants of 535 Cohasset moved out about six months ago, but returned periodically after moving out, she said.
Weaver's husband, Rodney who works the midnight shift, was in an upstairs front bedroom. "It scared me," he said. "It woke me straight up. I'm like: 'Oh my God, what happened?,' and then I flew downstairs," he said.
Also in the Weaver residence were a 4-year-old, a 14-year-old and two 16-year-olds. All evacuated through a back door.
Inez Neely lives on Rosedale about two houses up. She said the explosion and fire were unreal.
"I never heard anything like that explosion in all my life," Neely said.
Rosie Bunkley and her husband Johnny Traylor live at West Warren and Rosedale avenues, which is behind the house, and also own a vacant home across the street. They said they were getting ready to go out when they heard a loud boom.
"I thought it was a car when it went off. It scared me," Traylor said.
Bunkley said she heard an explosion and saw debris everywhere.
"I turn around, and I see things flying through the air," Bunkley said.
Connie Hightower lives nearby and said she was watching the movie "Conan The Barbarian" in her pajamas when the house blew up. She said the neighborhood was chaotic.
"It knocked all the stuff off the TV and all the stuff off my walls," Hightower said. "Everyone just ran out of their house. They couldn't figure out what happened. I ran outside in my pajamas."
Shirley Green lives on Ridge Avenue, several blocks away. "It was like a bomb. Boom!" she said.
William Taylor lives at West Dewey and West Hudson avenues, about eight blocks away and said the noise startled him.
"I thought a car ran into my house," Taylor said.
Dennis Ray was a block west walking his dog on West Delason Avenue when the explosion happened.
"I thought it was thunder for a moment but then you see stuff flying through the air," Ray said.
CONTRIBUTORS: Staff writers Joe Gorman, Burton Speakman and Peter H. Milliken