Beatitude House Green Clean provides a service and benefits workers
---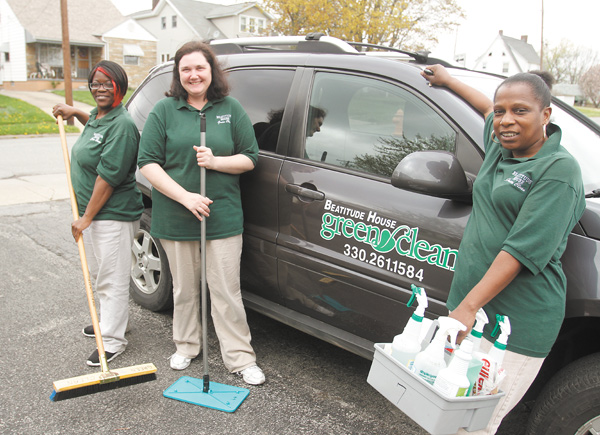 Photo
Three owners of Beatitude House Green Clean, a co-op company, stand next to one of the vehicles used by the business. They are, from left, Remona Gordon, Joyce Koellner and Rose Mary Seals.
By LINDA M. LINONIS
For the 12 women who make up the staff of Beatitude House Green Clean, cleaning provides an avenue to an improved life.
Joyce Koellner, Remona Gordon and Rose Mary Seals can explain why. They are among seven owners of the co-op cleaning business who said having a vested interest in the company has made a difference. It's improved their self-esteem, given them a sense of accomplishment along with motivation and developed teamwork skills. Others are working toward buying into the venture.
Carl Jacobson, assistant manager, said Green Clean began in 2009 with grant money of $18,000 from the Wean Foundation and other sources. Ohio Employee Ownership Center based at Kent State University helped with the legal framework. Sister Patricia McNicholas, executive director of Beatitude House, said Wean sponsored a social entrepreneurship program, and Beatitude personnel attended, then developed the Green Clean idea. "The co-op profits are meant to help the women, not the agency," she said, adding it provides workforce experience.
Jacobson, who has a background in business and ministry, said participants generally work seven months in an "intership of sorts," during which they prove themselves as successful workers. Women start out at $8 an hour; there is a graduated pay scale with $11 the top. Women become co-op owners by contributing 50 cents per hour of pay until $250 is reached, the amount to buy into the co-op.
The co-op serves commercial and residential accounts, bidding on commercial ones. A co-op worker averages 11 hours a week though some may work 20 hours. If the co-op makes a profit, bonuses are given out. Women generally work in teams of two, more for a big job. Jacobson said each woman has "different limitations" that might involve child care, school and transportation. Only four of the 12 members have their own cars; others rely on the bus for transportation to and from Green Clean. The business leases three vehicles.
Eventually, he said, it is hoped Green Clean will be operated completely by the women. Jacobson said Joe Fleming, a retired businessman, provides valuable mentoring.
Jacobson said Green Clean is unique because "we're happy when someone moves on to a better job."
Koellner, secretary of the co-op board, said she came to Beatitude House's transitional housing program in September 2010 when she and her four children were homeless. Now in permanent supportive housing in Campbell, Koellner said the stability has changed her family's life.
Koellner, who had a variety of jobs such as retail and fast-food places, said hours often were difficult because she had child-care issues. "Here, they understand and work around schedules." She said her children are doing well and "have stability."
"Before, all we knew was day-to-day existence," she said. "Now they talk about the future and going to college."
Koellner said her example of living on a budget and having goals has benefited her children's outlook.
Gordon has a teen son in Youngstown State University's Early College program. "It's a thrill to be a part of something and contribute ideas," the city resident said of her Green Clean involvement. She went from transitional to permanent housing and feels the job is a bonus. "I'm truly blessed," she said.
Gordon said previously she lived near the Beatitude House site and one day stopped to inquire about programs. She came on board with Green Clean in August 2011. "I'm happy to have a goal; it motivates me."
Seals, who lives in Youngstown Metropolitan Housing Authority property, is a single mother of a 12-year-old son; her husband died of cancer. She came to Green Clean in 2012, and has since attained her General Education Development Diploma.
"I think what I've done is a good example to my son. ... I say, 'look at me,'" she said.