---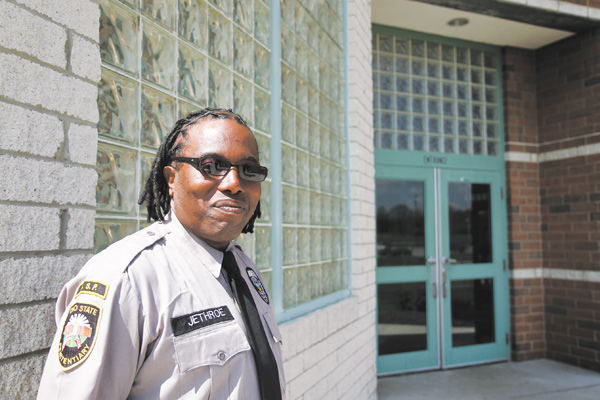 Photo
Vince Jethroe stands in front of the Ohio State Penitentiary in Youngstown. Jethroe has been selected as a candidate for Ohio Corrections Officer of the year by his peers at the prison on the East Side that houses about 600 inmates.
By Susan Tebben
AUSTINTOWN
Vince Jethroe walked around the Ohio State Penitentiary in Youngstown, pointing out security doors and explaining protocols at the maximum-security prison, all while keeping a bright smile on his face.
"You meet all kinds of people, working here, people of all different backgrounds," Jethroe said.
Jethroe, 50, of Austintown, has been a corrections officer at the penitentiary since 1997, and this year he was honored as corrections officer of the year by his peers.
He's now on a list of 30 other corrections officers that the Ohio Department of Rehabilitation and Correction is considering for Ohio corrections officer of the year.
A banquet will be Friday at the Corrections Training Academy in Orient, Ohio, where the winner will be announced.
"He's a positive individual; he always has a smile on his face, and he is always making us all smile," said Laura Gardner, public information officer for the OSP.
A veteran of the Army and Air Force, Jethroe was looking for a job in 1992, when one of the building maintenance workers at Trumbull Correctional Institution got in touch with him. Knowing his history in aircraft maintenance, the employee brought Jethroe on. His experience as a corrections officer has been rewarding ever since, Jethroe said.
"It's something a lot of people don't get to do," Jethroe said.
When the Ohio State Penitentiary was built, Jethroe and many of his colleagues transferred from TCI, including David Bobby, who is now the warden at OSP.
"I've known him for 20 years," Bobby said. "He's a level-headed guy; he's a very reasonable guy, and that's the demeanor it takes to be able to do this job."
Jethroe is a polite, hard worker, and his best strength is the communication he teaches younger corrections officers and uses when dealing with inmates.
"He's a mentor. Some officers won't admit that, but they watch him and they look up to him," Bobby said.
Things have changed since Jethroe started at OSP. Death Row inmates who were housed there were moved to the Chillicothe Correctional Institution, but the inmate numbers have grown since he started. What once was a population of about 200 inmates at OSP is now in the 600s, Jethroe said. But the communication and attitude needed to get through the day have not changed.
"Something I live by and tell the young people is, we're not here to punish these guys," Jethroe said. "Their punishment is being here. Why add to their stress and my stress?"
Despite the dedication and hard work that got him nominated, Jethroe has other focuses, namely his wife of 29 years, Shirlene, and his three children. His other love is his motorcycles.
"I take 30 days off a year and I travel around the country," Jethroe said, listing off nine places from the West Coast to Mississippi that he traveled in one trip last year with his wife.
After he finds out whether he's won the award, he plans on taking his Harley Davidson Street Glide to Atlantic City and the eastern seaboard.
After that, he'll come back to work with an even bigger smile, he said.