First-place Pirates celebrate milestones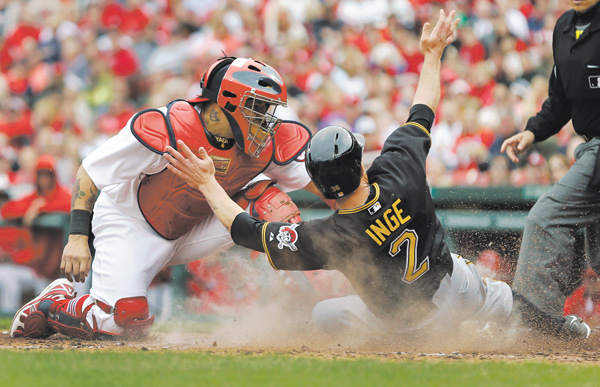 ---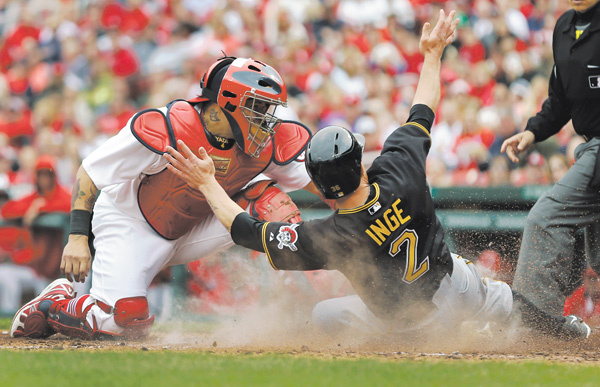 Photo
The Pirates' Brandon Inge (2) scores ahead of the tag by Cardinals catcher Yadier Molina during the sixth inning of Sunday's game in St. Louis. Pittsburgh shut out St Louis, 9-0
Associated Press
ST. LOUIS
It was a milestone day for the Pittsburgh Pirates, who took the NL Central lead for the first time since last July and reached 15 wins in April for the first time since 1992.
Manager Clint Hurdle thought his 700th career victory was a footnote at best, considering he has 808 losses. Players gave him a toast all the same.
"It means you're gifted and blessed with the opportunity to do this for a while," Hurdle said after the Pirates beat the Cardinals 9-0 Sunday for a series win and the division lead. "You don't talk about the other number because the other number is bigger."
Rookie Jeff Locke gave a salute to his manager after pitching seven innings of three-hit ball and Russell Martin had two of Pittsburgh's four home runs.
"It's special to be the guy on the mound that day," Locke said. "I was awfully happy for him, and it's not the last one."
Garrett Jones had three hits and John McDonald had a key bloop RBI double for Pittsburgh, which ended rookie Shelby Miller's streak of 14 scoreless innings at home to start the season. The Pirates have won nine of 12 overall and have the division lead for the first time since July 8, leapfrogging St. Louis for first place.
"It helps us believe we have the team we think we have," Martin said. "The key is to be consistent and do it every day, and we've been doing it every day."
Locke (3-1) has worked 13 scoreless innings while allowing five hits his last two starts. The Cardinals got just three singles and advanced two runners into scoring position against the 25-year-old left-hander, who earned the fifth spot in the rotation with a strong spring.
Justin Wilson allowed a walk the last two innings to wrap up the Pirates' fifth shutout, tied for the league lead with St. Louis and San Francisco. All of them have been collaborations.
The Cardinals lost consecutive games for the first time this season, managing just 11 hits. They didn't get much going against Locke after some hard outs the first time through the order.
"It looked like good things were going to be coming the second time through," manager Mike Matheny said. "He mixed it up, kept us off-balance, and just shut us down."
Miller (3-2) struggled to put away hitters and was taken out after 113 pitches and giving up two homers in 52/3 innings. He struck out seven, one off his season best, and was charged with a three runs after John McDonald greeted Fernando Salas with a well-placed pop fly that barely dropped in for an RBI double.
The 22-year-old rookie, who entered among the NL leaders with a 1.44 ERA, said he simply left too many pitches up.
"I probably can't even count on my fingers how many balls I threw down in the zone," Miller said. "The ball might have been carrying a little bit, but that's no excuse.
"I'm still getting hit hard, they were seeing the ball well."