Eckenrodes mark 65th anniversary of their wedding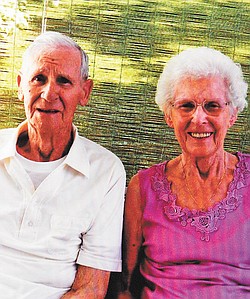 Photo
Mr. and Mrs. Jack Eckenrode
YOUNGSTOWN
Mr. and Mrs. Jack Eckenrode of Youngstown recently celebrated their 65th wedding anniversary.
The former Dolores Baytos married Jack Eckenrode at Holy Name Church on April 10, 1948.
The couple have two daughters, Karlene (Larry) Fedor of New Middletown and Denise (James) Snyder of Florida. They have five grandchildren: Sara Demko, Courtney (Justin) Flack, Nicholas Demko, Kelly (Jason) Cline and Patrick Snyder; and one great-grandson, Everett Flack.
The Eckenrodes are members of St. Christine Church.
Mr. Eckenrode, a U.S. Army veteran of World War II, served in the infantry in the South Pacific for three years. He worked at Hynes Steel Products for 37 years before retiring in 1984.