Miss Porter, Mr. Rodgers announce plans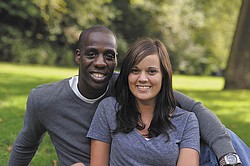 Photo
D'Andrae Rodgers and Sara Porter
Sara Porter and D'Andrae Rodgers, both of Boardman, with their parents, are announcing their engagement.
Parents of the couple are Flo Porter of Youngstown, Howard Rodgers of Warren, and Allen and Erika Appling of Boardman.
Father of the bride, Thomas Porter, is deceased.
The couple are making plans for a May 18 wedding at Old North Church in Canfield.
Invitations will be issued.
The future bride received a bachelor's degree in advertising from Youngstown State University.