Galgan-Ansevin wedding date to be in June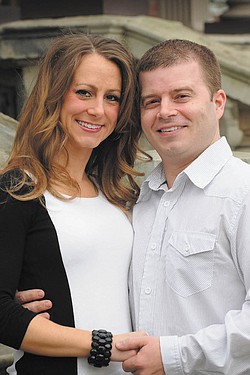 Photo
KRISTEN D. GALGAN AND FRANKLIN E. ANSEVIN
POLAND
Lee and Karen Galgan of Poland are announcing the engagement of their daughter, Kristen Danielle Galgan of Poland, and Franklin Edward Ansevin of Boardman. Parents of the future groom are Karen Ansevin of Fairview Park, Ohio, and Dr. Carl Ansevin of Boardman.
Good Hope Lutheran Church, North Lima, will be the setting of the exchange of vows during an open ceremony at 1:30 p.m. in June. Invitations will be extended to an evening reception at Mr. Anthony's in Boardman.
The future bride graduated magna cum laude with a bachelor's degree in accounting from Youngstown State University, where she also earned her master's degree in business administration. She is deputy finance director with the City of Canfield.
The prospective groom is a graduate of Ohio State University, where he received a bachelor's degree in exercise physiology. He earned a physician assistant certificate from Cuyahoga Community College in Cleveland and a master's degree in physician assistant studies from the University of Nebraska. He is a physician assistant with Youngstown Orthopaedic Associates.