---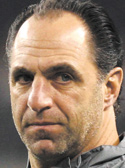 Photo
RELATED: NFL draft notebook | Valley hopefuls
By Joe Scalzo
YOUNGSTOWN
On Oct. 26, 1997 — three days before his son's eighth birthday — Mike Zordich helped the Philadelphia Eagles beat his son's favorite team, the Dallas Cowboys, 13-12 at Veterans Memorial Stadium.
Afterward, Zordich took little Michael into the Cowboys' locker room to meet Emmitt Smith. He even got a ballcap from Deion Sanders.
"It was cute as hell," the elder Zordich said. "And he still has the hat."
For most kids, it would have been a once-in-a-lifetime experience. It was simply a great birthday for Michael, who grew up playing video games with the Eagles, running around on the field during training camp and watching games from players' seats on Sundays.
"I was basically born in a locker room," the younger Zordich said. "I grew up at his practices. I grew up watching him watch film and I was around it on Sundays.
"His last two or three years in Philly, that's when I was really old enough to take it in. And of course, when me and my brother wanted to see what the NFL was all about, we'd throw on some tapes and watch our old man play football."
This weekend, whether it's in the draft or by signing a free agent deal, Michael will follow in his father's footsteps. After an up-and-down Penn State career that ended on an upswing, the 6-foot-1, 236-pound running back figures to join Cardinal Mooney High graduate John Simon as the latest Valley natives to play in the NFL.
"I can't say who I've been talking to, but there's a lot of interest there," said Zordich, who projects as a fullback/H-back in the NFL. "It's great to have my dad around because not only has he done it before and lived it, but he's been coaching [the Eagles' safeties] the last couple years, so he's been able to see it from both perspectives.
"He's just a great person to be able to lean on. And it's fun to have him around just to throw me some balls, just like back in the day."
Mike, who was let go by the Eagles in the offseason when Andy Reid was fired, played 12 years in the NFL at defensive back with the Jets (1987-88), Phoenix Cardinals (1989-93) and Eagles (1994-98). A Chaney High graduate, he was drafted in the ninth round in 1986 by the San Diego Chargers — the NFL only has seven rounds now — after an All-America career at Penn State.
"The draft is a totally different deal now," Mike said, chuckling. "Back then, it was done in one day. This [three-day] setup is much better for the fans and the players and especially the coaches."
Mike said he hasn't needed to give his son many pointers — "These guys [NFL prospects] now are so in tune with what's going on and I just give him little tidbits, mostly to remind him of things" — but he has no doubt Michael can play in the NFL, especially after a solid senior season.
Michael played in all 12 games this fall, starting five, and rushed 80 times for 301 yards and four TDs, emerging as a team leader for a program under siege due to the Jerry Sandusky scandal. He also caught 15 passes for 152 yards and made four tackles on special teams.
"He's got a great opportunity in front of him and I'm proud as hell," Mike said. "There's a bunch of teams interested and he can certainly play in this league. Last year he proved to a lot of people he can run the ball and he can catch the ball out of the backfield.
"He was pretty much dormant for two or three years [at PSU]. He did all those things in high school but his skills diminished. They didn't use him as they should have. It sounds crazy but [running back] Silas Redd transferring [to USC] really helped Michael because it opened the door for him to do things he's capable of doing."
Michael said growing up in the Valley played a big role in his development — he played for the West Catholic Crusaders and attended St. Christine's before coming to Mooney — and considers himself blessed to be part of the Cardinals' tradition.
"I take a lot of pride in being from there," said Michael, who also praised his mother Cynthia for doing so many things behind the scenes to help his career. "You see all the tradition and all the success there and you realize you're not the only one, that the guys before you set that path.
"You have to thank everybody that helped you but you also realize now it's on you. It's your time. It's your decision and your path and you've got to set it. You take a little bit from everybody you've been around, and all the lessons you learned, and try to put it together in your own little set of rules and go with it from there."