Ursuline sophomores write books about 3rd-grade pen pals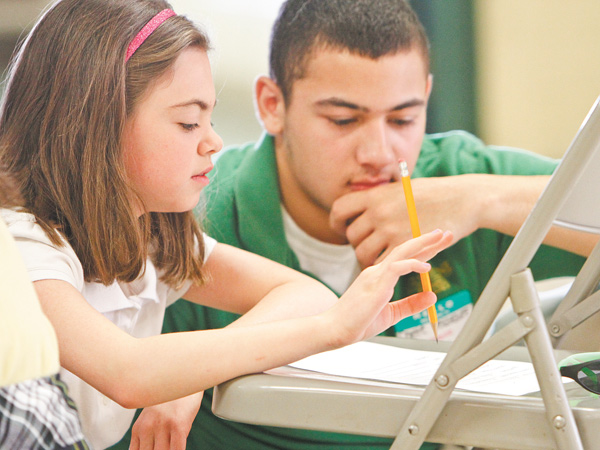 ---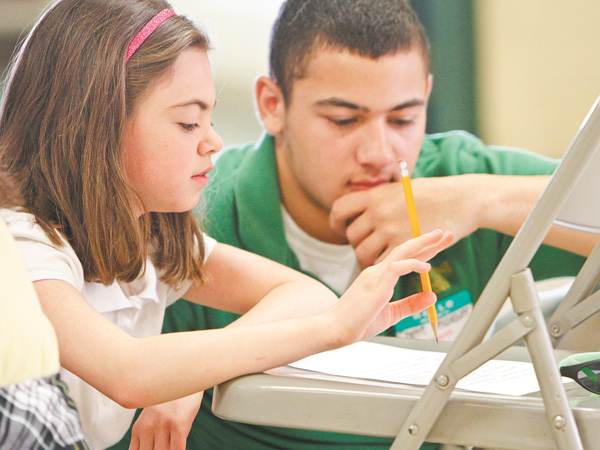 Photo
Natalie Femia, a third-grader at St. Christine School, and Donte Velazquez, a sophomore at Ursuline High School, work on a word game Thursday at Ursuline. Sophomores there corresponded throughout the school year with third-graders from St. Patrick, St. Christine, St. Rose and St. Joseph/Immaculate Heart of Mary schools. The students met Thursday.
By DENISE DICK
denise_dick@vindy.com
YOUNGSTOWN
Alex Marcavish, 9, sat bowed over a book, his attention rapt.
The subject was Alex, a third-grader at St. Rose School in Girard, and the author was Nathan Bee, 16, a sophomore at Ursuline High School.
"He really likes football, and his favorite movie is 'The Avengers,'" said Nathan.
He's also afraid of spiders. In Alex's story written by Nathan, Alex the Avenger saves the day when a giant spider Threatens St. Rose. Alex then leads his football team to victory.
Ursuline sophomores began the school year corresponding with third-graders at Immaculate Heart of Mary/St. Joseph School in Austintown, St. Christine School in Youngstown, St. Patrick School in Hubbard and St. Rose School.
Aimee Morrison, an American literature teacher at Ursuline, said the pen-pal program began about 15 years ago. The older students wrote to the younger students telling about themselves, and the younger students wrote back.
The Ursuline students compiled information gleaned from those letters into a book about their younger peers. They met for the first time Thursday, and the older students presented their books.
The event culminated Ursuline's Sophomore Week, organized by Morrison and another teacher, Maggie Matune.
Besides the book presentations, sophomores performed a skit for the younger children, worked on a craft and played games with them.
Alex, when he pulled himself away from his book, gave it a positive review.
"It's good," he said.
Nathan incorporated more about his young subject into the book.
"His favorite food is mac and cheese, so I researched to find out who has the best mac and cheese," Nathan said.
It's a restaurant called Old Skool Cafe, so in the story, Alex and his teammates travel to San Francisco to eat macaroni and cheese there to celebrate their win.
St. Christine third-grader Kayla Kaleda, 8, wrote to Ursuline sophomore Alyssa Lytle, 16, about her older sister and how they don't always get along.
Alyssa wrote to Kayla about her activities at school, which include speech and debate team and drama club.
Matt Jacobs, 8, from St. Patrick School, was engrossed in the book his pen pal, Miranda Fonce, wrote about him as well.
"It's about evil aliens that take over the world," he said.
Miranda combined Matt's love of Washington Redskins quarterback Robert Griffin III, also known as RGIII, and his favorite movie, "Predator" to make the story.
Matt, who is RGIII in the story, leads his team to a win over the evil alien predators.
"He saves the world," Miranda said.