YSU's SMARTS program marks 15th birthday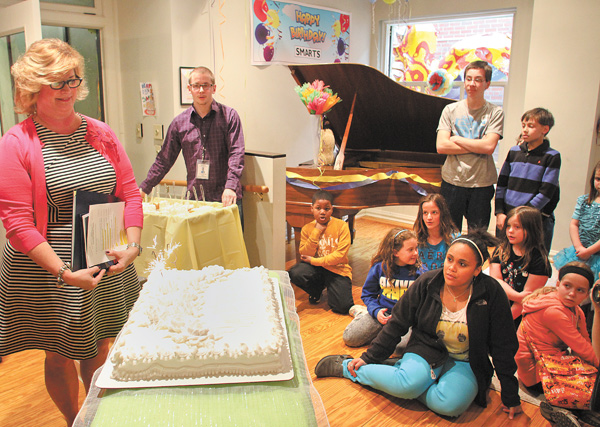 ---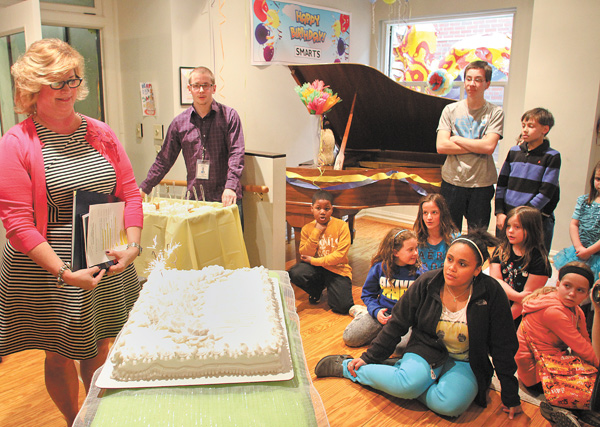 Photo
Becky Keck, director of Youngstown State University's SMARTS — Students Motivated by the Arts — and a groups of SMARTS students gather around a cake Thursday to celebrate the program's 15th anniversary.
By Denise Dick
Youngstown
For the past 15 years, Mahoning Valley students have participated in instrumental and vocal music, visual arts and creative writing through Youngstown State University's SMARTS — Students Motivated by the Arts.
The community art school offers free arts-education programming to students in Mahoning, Trumbull and Columbiana counties and marked its 15th anniversary Thursday with supporters, students, teachers and parents.
"Students who are involved in the arts at an early age are four times more likely to have academic success," said Bryan DePoy, dean of YSU's College of Fine and Performing Arts.
They're three times more likely than their peers to earn a school attendance award, four times as likely to write an essay or poem and four times as likely to participate in a math or science fair, he said.
SMARTS falls under the auspices of YSU's Beeghly College of Education and the College of Fine and Performing Arts. It is located downtown in the DeYor building on West Federal Street.
Becky Keck, SMARTS director, said the program's relevance has increased in the community through the years, and thousands of students have been affected by the program.
"The community support is amazing," she said.
The program started with $5,000, and through community support, it's raised $2 million during its lifetime.
Angela McCoy said she brought her daughter Kayla to SMARTS three years ago. At that time. She was a shy girl, but the program helped bring her out of her shell, and since then, she auditioned for and was accepted into the visual and performing arts program at Youngstown schools' Chaney Campus.
"Three years ago, I brought a shy little girl up those steps," McCoy said. "Now I have a confident young lady."
Ariana Mostella, 17, a student at Ursuline High School, got involved in SMARTS this year. The choir director at her church encouraged her to participate.
She's part of SMARTS singing and creative writing programs, attending sessions two days per week after school.
"I like having a YSU student who helps me with my writing, because that's what I want to do," Ariana said.
Elijah Williams, 6, a first-grader at Williamson Elementary School, joined SMARTS through the encouragement of his mother.
"I know how to sing, and she wanted me to go to SMARTS to sing and stuff," he said.