Browns add some 'Bark' to defense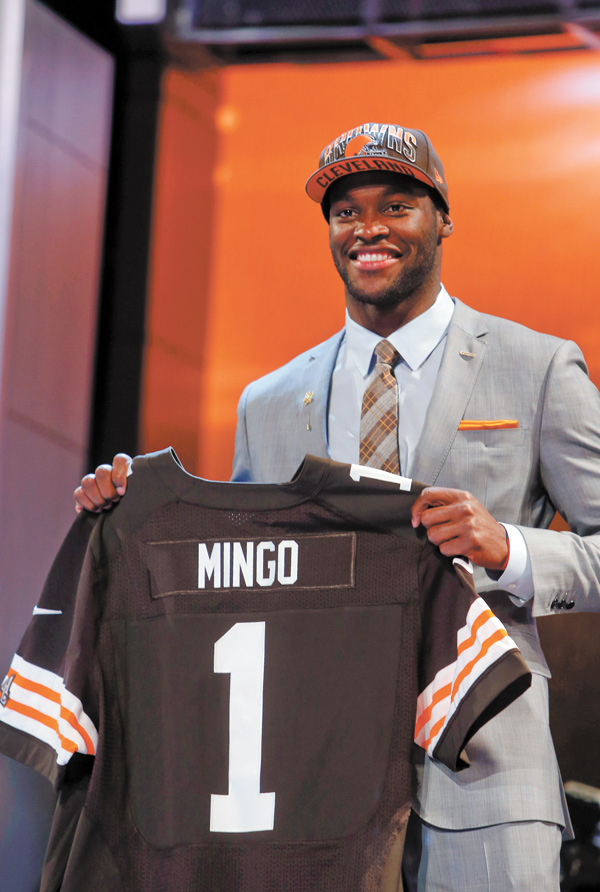 ---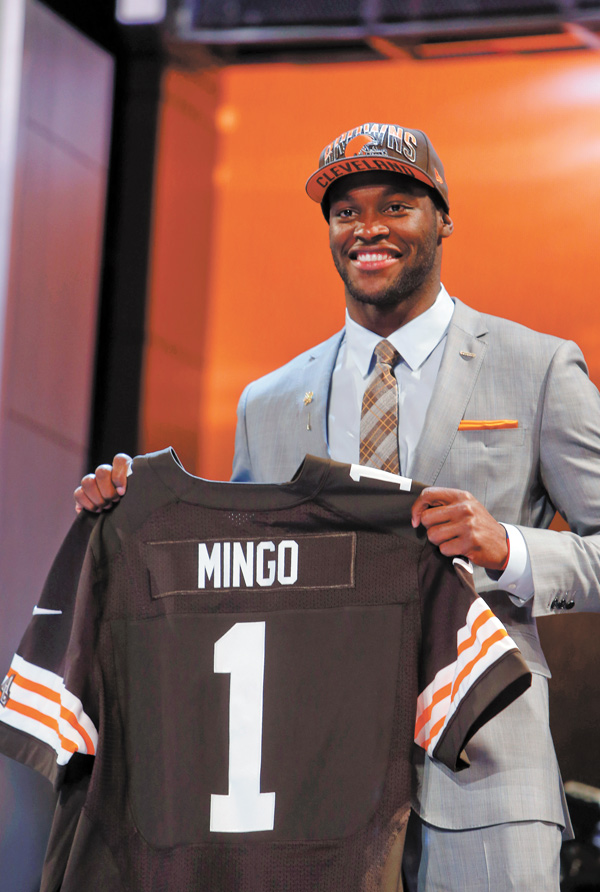 Photo
Louisiana State defensive end Barkevious Mingo holds up his team jersey after being selected sixth overall by the Cleveland Browns during the first round of the NFL draft on Thursday at Radio City Music Hall in New York.
Cleveland drafts barkevious mingo
Associated Press
Cleveland
With their first pick under new owner Jimmy Haslam, the Cleveland Browns put a little more "Bark" into their defense.
That should make the Dawg Pound howl.
Hanging onto the No. 6 overall pick, a selection they considered trading up until the last minute, the Browns selected LSU's Barkevious Mingo, who played defensive end in college but will be used as an outside pass rusher by the Browns.
"They needed a pass rusher and somebody to get to the quarterback," Mingo said on a conference call.
The 6-foot-4, 241-pound Mingo has the distinction of being the first player taken since Haslam bought the franchise from Randy Lerner in October. Mingo is also the first pick by new coach Rob Chudzinski, CEO Joe Banner and general manager Mike Lombardi, who have orders from Haslam to turn around a franchise that has made the playoffs just once since 1999.
By coincidence, Mingo wore a brown striped tie and orange pocket square in his suit jacket to the draft at Radio City Music Hall in New York. He's aware his name will be a big hit with fans in Cleveland's notorious bleacher section, known for years as the "Dawg Pound."
"It is very fitting," he said when asked about his unique name. "My mom just made it up."
Mingo recorded 4.5 sacks last season as a junior — down from eight as a sophomore — with the Tigers and was named second-team All-SEC.
The Browns are switching from a 4-3 alignment to an aggressive, 3-4 multifront scheme under new coordinator Ray Horton, who must be salivating at the thought of turning Mingo loose off the edge. He'll likely play on the opposite side of Paul Kruger, who signed a five-year, $40 million free agent contract with the Browns in March.
Chudzinski said Horton was "very involved" in the process to pick Mingo.
The Browns discussed several trades, Banner said, but chose to stay at No. 6 to snag Mingo.
"This is the outcome we were hoping for," Banner said. "We just felt too strong about the fit."
If Mingo wasn't available, Banner said the Browns had a trade lined up.
Mingo skipped his senior season at LSU to jump to the NFL. He raised his profile with a strong performance at the scouting combine, and said his goal "is to start in Week 1." Mingo, who didn't start playing football until his junior year in high school, started 10 games last season.
About an hour before the draft began, Haslam, who is under federal investigation for fraud at his truck-stop chain, spoke briefly to some of the team's season-ticket holders and sponsors at a party.
As Chudzinski, Banner and Lombardi went over last-minute details before picking Mingo, Haslam addressed more than 100 partygoers inside a field house at the team's training facility.
Haslam thanked them for their support and gave an update on the team's progress. However, he did not mention the scandal that has rocked Pilot Flying J, his family's company based in Knoxville, Tenn.