YSU baseball can't hold on against WVU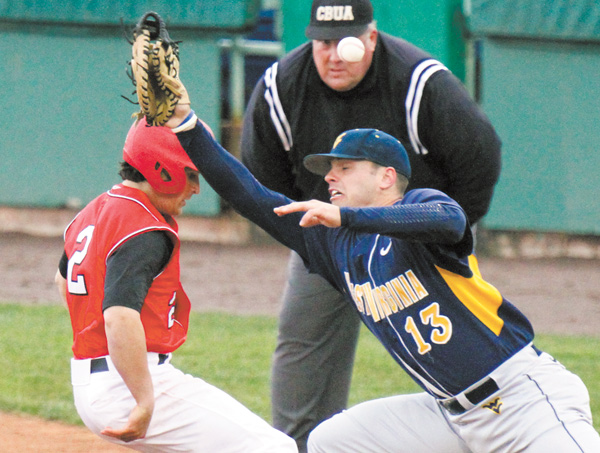 ---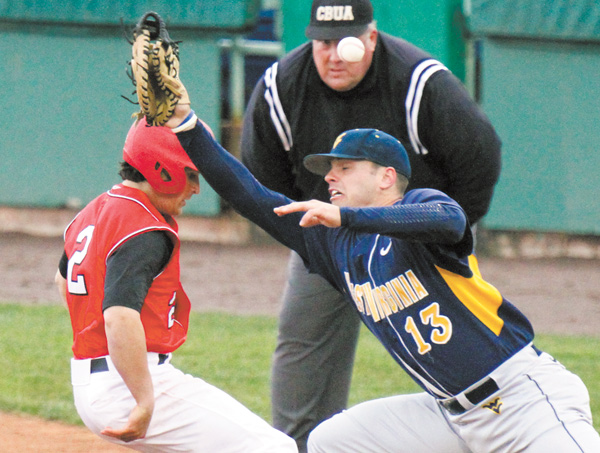 Photo
YSU's Mike Accardi makes it back to first base as West Virginia's Ryan McBroom misses the ball in a pickoff attempt during Wednesday's game at Eastwood Field in Niles. Accardi advanced to third on the error, but the Penguins came up short, losing 7-6.
By Joe Catullo Jr.
NILES
West Virginia left for Eastwood Field around noon on Wednesday to face Youngstown State's baseball team for the fourth time this season.
Because of the 150-mile drive, the coaches and umpires decided to play the game. What they got was a three-hour, 25-minute, back-and-forth battle on a rainy, cold night with seven lead changes. The precipitation affected the Mountaineers defensively, committing six errors, but YSU could not hold on in the 7-6 defeat.
"We just didn't do the little things," YSU infielder Kevin Hix said. "That one run could've been in the first when we had bases loaded and nobody out. I mean that's baseball; it's going to happen."
When WVU (24-18) failed to score in the top of the eighth inning, it marked the first time since the top of the fourth that both teams failed to score. The Mountaineers earned all seven runs as YSU (13-30) coughed up one error.
"Their offense kind of goes when they get somebody on the beginning of the inning," YSU coach Steve Gillispie said. "They're very good at it; it's hard to defend. Two two-run innings, but we kept the numbers fairly small."
Two of YSU's six runs were unearned with the six Mountaineer errors. Gillispie said it was not a great night offensively, but what helped the Penguins was their ability to run and take the extra base.
"That's one thing we've got to do or any team's got to do to be successful," Gillispie said. "If they're giving you opportunities to get into scoring position or move up that much closer, you need to do that. Our whole team looks to do that, and they're very good at doing that because they run so well."
Jared Wight started for YSU and allowed one run in four innings. Patrick O'Brien relieved Wight and allowed five runs in 2 2/3 innings.
"We were trying to get some guys work," Gillispie said. "I wanted him [Wight] to come out with some success and feel good. I thought he threw the ball very well."
In the bottom of the fourth, Marcus Heath delivered with an RBI single that scored Lipari and gave YSU a 2-1 lead. Hix pinch-ran for Heath, and he delivered on multiple occasions.
In the top of the sixth inning, Hix, who was playing first base, leaped into the first row, banged his knee and caught the final out of the inning.
"I just wanted the ball," he said. "I put my body out there just to catch the ball."
Then in the bottom of the seventh inning, he hit a game-tying, two-out RBI double.
"He's just nuts," Gillispie said of Hix. "He's a blue-collar guy that just gives everything he's got for whatever situation he's in. He's just that kind of guy that's been versatile whether he's playing right [field], center, left, first, whatever. I was really happy for him to have that kind of success."