Clarett, Tressel together again for a cause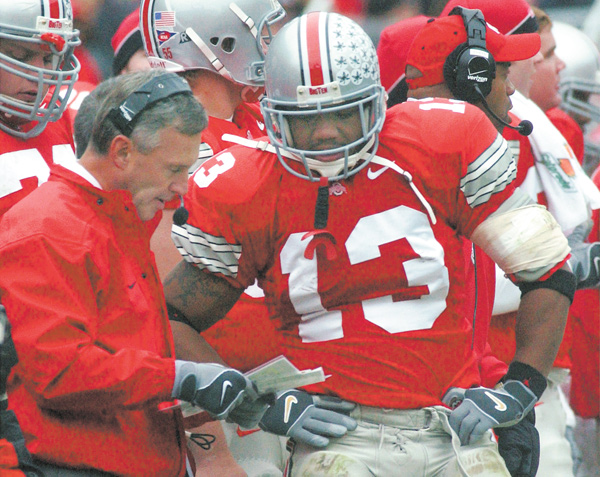 ---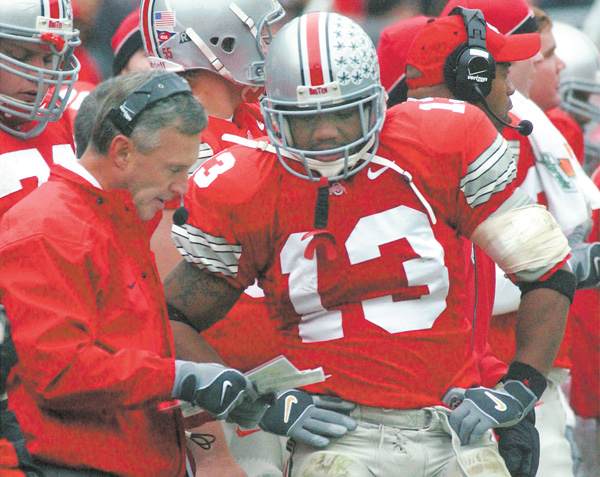 Photo
Former Harding High/Ohio State football standout Maurice Clarett will team up with his former coach Jim Tressel and other former Valley athletic celebrities on Saturday for The Comeback Project, a benefit basketball game for Victory Christian Center.
CLARETT, TRESSEL TO REUNITE for Charity
By Doug chapin
Two men who were classmates as freshmen years ago at Austintown Fitch High School have taken roundabout paths, but they both have arrived years later at the same point: They want to assist young people in the Mahoning Valley with making something of their lives.
Those efforts will be at center stage on Saturday with The Comeback Project, which features a basketball game (1 p.m., Struthers Fieldhouse) that will include several celebrity athletes from the Mahoning Valley — Jim Tressel will coach the celebrity team of mostly football players.
The event also includes a halftime autograph session, other fund-raising efforts and, at 7 p.m. at The Riot (3899 McCartney Road, Coitsville), an after party free to all young people. The athletes are scheduled to attend the after party and former Ohio State football star and Youngstown native Maurice Clarett will speak to the youths.
The project has been hatched by Clarett and Nate Ortiz, youth pastor at Victory Christian Center and director of The Riot.
"About two years ago I reached out to him (Clarett) as the youth pastor to see if he wanted to share his story with our kids. He came out and shared and saw what we were doing and valued it," Ortiz said. "We stayed in touch and became good friends and started thinking about what we could do to reach out to kids, let them know about our place and encourage them in any way we could."
Clarett, of course, starred on the football field for Warren Harding for three years before his one outstanding season in 2002 at Ohio State. He was suspended from the team in 2003, was dismissed from the football program and eventually wound up in prison. He was released in April 2010 and since then has been sharing the cautionary tale of his life with groups of youngsters at schools, churches and youth centers.
"When I got out of prison he (Ortiz) asked me to come over to Victory to share my testimony," Clarett said. "So I went over there and talked about going to prison, growing, and educating myself and I became more aware of the social ills in the area. I was inspired to try to do something about it.
"We brainstormed on it and after a period of time of going back and forth we came up with the idea for the game together. It was putting our resources together, his resources and my resources, (such as) knowing Tressel and some of the other guys from the area, and they were all for it."
For his part, Tressel was more than happy to participate.
"He approached me months ago when he was first beginning to plan it. That was probably last summer," said Tressel, Clarett's coach during that magical 2002 Buckeye season. "My reaction was, 'Tell me the date.' He said April 27 and I said, 'OK, I've got it down, let me know what we can do.' He always wanted to make a difference in his home area and I told him I'd like to help."
The game will pit the celebrity athletes against a group of young people from Ortiz's youth center.
"We're going to have fun out there," Clarett said. "The kids on Nate's side, they deserve the chance. They've been doing a lot of good work over at Victory helping us put the whole thing together. Those guys have earned it."
Tressel may actually do more than just coach.
"Last weekend I called him up and said 'Hey, someone told me I was coaching in this game. I thought I was a player.' He started laughing and I said, 'Why don't I bring my tennis shoes?' " Tressel said. "He said, 'If you bring your tennis shoes you might get to play, we'll see.' I just have to make sure one of those guys doesn't hurt me."
The Comeback Project is more than just Saturday's events. It is an ongoing effort to reach youths in the area and to provide them with information and resources regarding their futures. The game is both a fund-raiser and a way to increase exposure to young people about those efforts, including the existence of The Riot.
"We want to see The Comeback Project continually growing, to have people get behind it whether in a school assembly, or some event out in the community like the game, or whether we're doing something at The Riot for kids in a church service," Ortiz said. "The idea is helping kids become a whole person including education, going to church and those types of things. Our goal is to really be involved in the community on a bigger level."
Clarett says he read prolifically in prison in an effort to educate himself. He stresses education in his talks, especially to youngsters who are counting on athletics to escape from a disadvantaged situation.
"First of all you have to understand that's all they know. When they turn on the TV they see the success of athletes whether they be basketball or football," Clarett said. "What you tell them is it's cool to hold on to that dream. Hold on to it but you have to tell them about the law of averages. Very few of them are going to make it that way.
"I ask them who they think built all those homes in the suburbs. Those weren't all built by athletes. There are other ways that you can become successful besides athletics."
Tressel takes that idea a step further.
"We always stressed, even to those guys who were going to make it, that a) if you make it, it's not going to be long and b), being well-rounded is crucial," he said. "You need to be prepared for all the chapters of your life."
His return to The Valley at Ortiz's behest convinced Clarett that there definitely was a need among young people in the area.
"I lived in Omaha for a year and I went to take my daughter to school. There I saw everyone who took an interest in these kids, parents, grandparents, other family members," he said. "It was then that I thought, 'Oh, this is how families are supposed to function.' Growing up in Youngstown you expect it to be single-parent, kids trying to grow up on their own. Coming back to look at it, it's like people looking at kids like they would a stray dog in the street."
Clarett said he hopes his efforts can lead to more involvement from other area athletes who have had success.
"A lot of these guys want to help, a lot of these guys don't know how to help. As football players our whole life, everybody does something for us," he said. "From getting your socks for you to getting this or that, someone does if for you, that's just the way it is. So we have to do for ourselves if we want to give back to the community."