Students from NEO test their environmental knowledge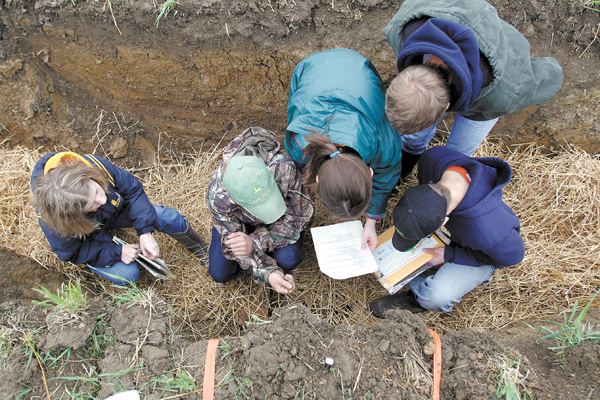 ---

Photo
Students get dirty, left, examining soil characteristics Wednesday during the 2013 Northeast Ohio High School Envirothon at Mill Creek MetroParks Farm.
By DENISE DICK | denise_dick@vindy.com
CANFIELD
About 250 students from across Northeast Ohio braved the wind and rain to test their environmental knowledge in the Northeast Ohio High School Envirothon.
The Wednesday event at the Mill Creek MetroParks Farm was hosted by the Mahoning County Soil and Water Conservation District.
Kathleen Vrable-Bryan, Mahoning SWCD administrator, said the teams of five students each visit stations on soils, sustainable rangeland management, achieving a balance between traditional agricultural uses with non-agricultural uses, forestry, aquatics and wildlife.
"They also learn team building, which is so important," she said.
At each station is an adult mentor who has worked in that area, informing them about the subject. Students then must answer 25 questions in writing at each station.
Those tests are scored, with winners headed to the state competition in June. The national competition, which also attracts teams from Canada, will be in August in Montana.
The LaBrae High School team of juniors Madison Kiser, Alexa Nogales, Danielle Miracle, Amber Davidson and Ashley Carr divided the stations among themselves, each selecting an area to specialize in.
The girls studied the concepts as part of an after-school activity.
"Our biology teacher asked if anyone wanted to participate," Danielle said.
"It's an extracurricular activity," Madison added.
A team from United High School included senior Darrin Dustman, freshmen Adrienne Bock and Emma Snyder and juniors Adam Costarella and James Kataro.
Darren said each team member studied all of the concepts to prepare for the competition, although each individual had particular strengths.
"Mine was probably forestry," he said.
CertainTeed, Bob & Chuck Eddy, Dominion East Ohio, Mahoning Valley Landscape and Nursery Association, Walgreens, Western
Reserve Resource Conservation and Development Council, Waste Management, Republic Services, Farmers National Bank, the Mahoning County Green Team, White House Fruit Farm, Frito Lay and Advanced Waste Services were major sponsors.
Richard Scarsella, soil and water conservation district board chairman, said the Envirothon is conducted each year throughout the region.
"Education is a big part of our mandate," he said of the board.