Mady's name could be called in draft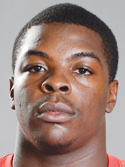 ---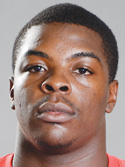 Photo
By Joe Scalzo
YOUNGSTOWN
When NFL draft prospects talk about having the finish line in sight, they usually aren't talking about, you know, the Finish Line.
As in the mall shoe store.
As in Lamar Mady's part-time job.
Mady, a two-year starter at guard, has a decent chance of becoming the first Youngstown State player to get drafted since 1998. He's also got a decent chance of being the only player in this year's draft who can tell you if they have any Jordans left in a size 11.
"I'm just trying to earn a little extra money in my pocket so I can do things on my own," said Mady, who started working part-time at the store last June.
And get discounts?
"That's a help, but my paycheck isn't that much," he said. "It doesn't help if you don't have any money to pay for them."
That could change soon. Mady projects as a mid- to-late round pick, according to NFL.com, and would be the first Penguin selected in the draft since Harry Deligianis in 1998.
"It'd be awesome to be drafted," Mady said. "That [1998] is a long time coming. I hope it happens."
He's one of five YSU seniors hoping to get at least a training camp invitation, joining TE Will Shaw, RB Jamaine Cook, DT Aronde Stanton and C Mark Pratt.
Mady (6-foot-3, 315 pounds) has had a busy offseason, starting with a spot in the Texas vs. The Nation All-Star Game in early February followed by the NFL combine and YSU's Pro Day. He's also still in school, taking nine credit hours toward his degree in sociology with a minor in criminal justice. He'll be four classes away from his degree when the semester ends.
"I don't want to say it's been stressful but it's nerve-wracking," he said. "The weeks have gone by fast.
"I'm just trying to do my finals ahead of time this week. I've had a lot of time to study and I'm trying to stay focused."
Mady hails from Topeka, Kan., and since he can't get home this weekend, he's leaning toward joining Stanton in his hometown of Detroit.
"His family treats me like family," Mady said. "We'll see if he gets a call [from an NFL team] and if I can get a call also."
In addition to working out, Mady has gotten pointers from YSU head coach Eric Wolford (who earned a tryout with the then-Phoenix Cardinals after his four-year Kansas State career), offensive line coach Carmen Bricillo and defensive line coach Tom Sims, who played seven years in the NFL as a defensive tackle with the Chiefs, Colts and Vikings.
Mady, one of 24 FCS players invited to the combine, has drawn interest from several teams, including the New York Giants.
"I'm just looking forward to any team giving me a chance," he said. "Any team that's looking at me to help them get better."