St. Christine students goes for national poster win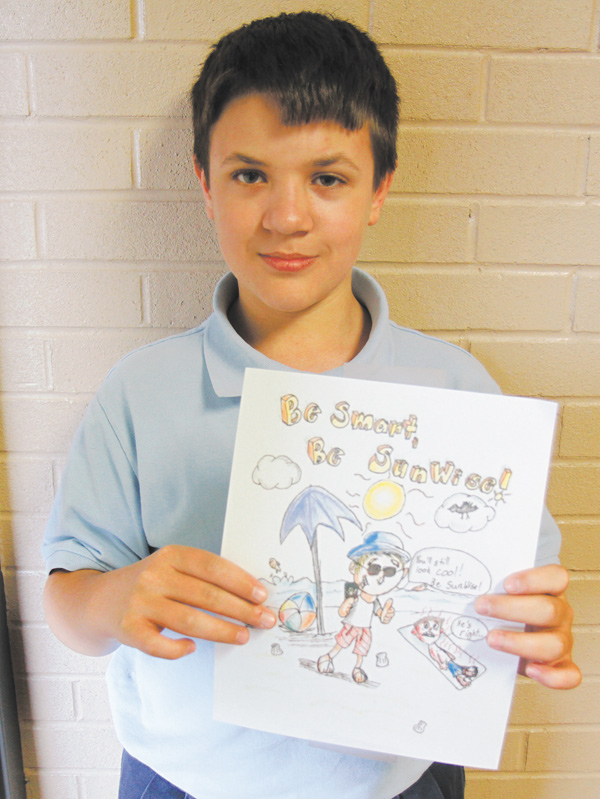 ---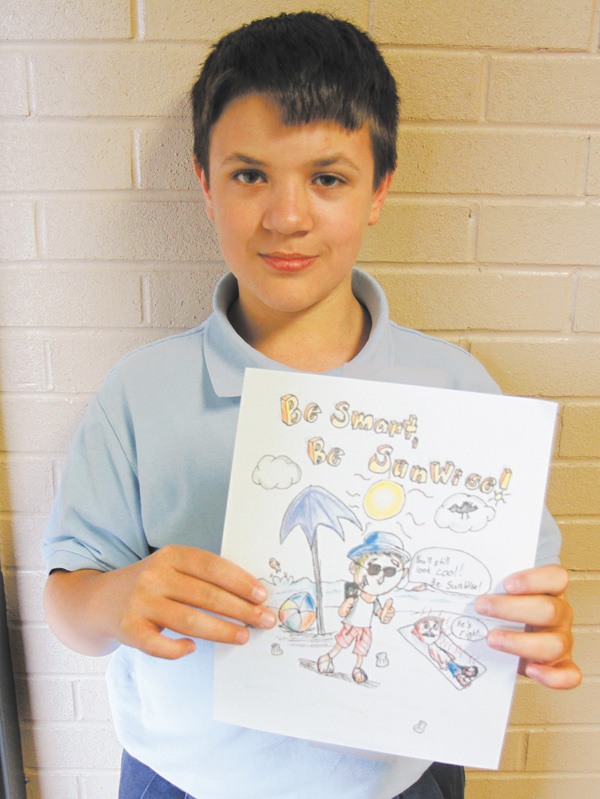 Photo
Anson Hankey, 12, a sixth-grader at St. Christine School in Youngstown, won a statewide contest for his poster about sun safety. Anson's artwork is now entered into a national contest through the Shade Foundation.
By Denise Dick
Youngstown
Twelve-year-old Anson Hankey used his artistic talent to convey the importance of skin-cancer prevention and earned first-place in Ohio for his efforts.
Anson, a sixth-grader at St. Christine School, created a poster, encouraging people to practice sun safety.
Suzie Cavalier, the school nurse, asked students in fourth through eighth grade to make posters displaying the elements of skin-cancer prevention. She entered the school's top entries in the Shade Foundation of America's SunWise with Shade Poster Contest.
The components or corrective actions include sunscreen, shade and sunglasses and protective clothing.
The foundation chose Anson's as the best in Ohio.
Anson's poster shows two cartoon characters on a beach. One is wearing sunglasses and carrying a bottle of 30 spf sunscreen with "You'll still look cool. Be SunWise," in a dialogue bubble above his head.
The other, lying on a beach blanket, hasn't practiced sun safety and is getting burned. "He's right," his dialogue bubble says.
Anson said that cartoon character shows what not to do.
He learned last week from his teacher, Tiffany Toman, that his poster was chosen as the state winner.
"I wasn't really expecting it," he said. "I couldn't believe it."
Now Anson is in the running for the national contest, but he needs votes to get there.
People can vote for his poster at www.shadefoundation.org. Links to the poster contest are on the right side of the page. People also can vote through the Shade Foundation's Facebook page.
"It's really easy to do," Anson said.
Voting runs through May 7.
He says his parents were excited about his win too.
"My mom already voted," Anson said.
The national poster-contest winner will get a family trip to Disney World, and the winner's school will get a $12,000 shade structure.
But that's not Anson's main motivation.
"Even if I don't win, I like to draw, especially cartoons, so I'm glad I got to draw this" with the sun-safety message, he said.