Guy's barbecue will take over food service at Lemon Grove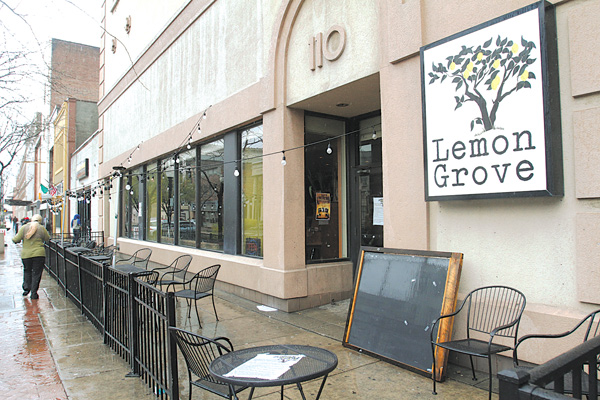 ---

Photo
The Lemon Grove will operate with limited hours in the coming weeks as it hands over food service to Guy's Barbecue, which will operate the dining room, kitchen and bar as a separate entity to be called Guy's at the Grove.
youngstown
A new partnership with Guy's Barbecue will shake up food service at The Lemon Grove.
Limited hours of operation will occur in the coming weeks so that new staff can be trained and small changes can be made to the venue's branding and interior.
Guy's at the Grove will take over food service and operate the kitchen, dining room and bar at The Lemon Grove beginning sometime in May.
"We're treating it as a new entity, essentially. Think of the Lemon Grove as the space and as our cultural mission. The shows, the gallery — all that will stay the same," said owner Jacob Harver. "We're starting all new management and staff for Guy's at the Grove."
Guy's operates a successful take-out location on Belmont Avenue, which first opened in November. Known for its ribs, brisket and burgers, the business sells its signature barbecue sauce at grocery stores throughout the region.
Current staff at The Lemon Grove, about 18 workers, were informed of the change at a meeting on Monday. They were given an option to work on the transition team and then apply for one of between 20 and 30 jobs expected to become available when Guy's at the Grove opens.
Some staffers quit on Monday and new staff will be trained by the Guy's Barbecue team.
The Lemon Grove first opened in 2009 at 122 W. Federal St., but squeezed for space as the venue grew, Harver moved two doors down to 110 W. Federal St. to Rosetta Stone's former location.
A big draw in moving to that space was its larger kitchen and the Lemon Grove planned on expanding its menu options and dining experience in order to better grow its business.
"I haven't been able to fully utilize the kitchen and Guy's has a proven operation," Harver said.
"I've been thinking about this for awhile — about kind of leasing out the kitchen as a separate space — but I don't want to deal with any jokers. Guy's was a perfect fit. We need to have good barbecue downtown."
Since its opening, The Lemon Grove has had a popular role in the city's downtown scene.
Harver acknowledged, however, that after the move, the venue failed in its ability to offer solid customer service and nuanced food during its dinner and lunch service.
Recognizing a need for change, he decided to pursue a partnership with Guy's.
In February, The Lemon Grove began having "Second Sunday Jazz" each month. Guy's Barbecue catered the buffet for those events.
"For me, this will enhance my business on Belmont. We have a carry-out location, but a lot of people ask about the ability to be able to sit down and enjoy the food," said Guy Hughes, owner of Guy's Barbecue.
"Jacob's marketing ability was alluring. He can help grow my business and I can bring my product down here and enhance his business as well — we can grow together."
Both Hughes and Harver already have worked out a revenue split, the details of which they chose not to discuss.
A primary reason for the partnership, Harver said, was to improve the venue's business model to ensure long-term growth.
"We do good work at the Lemon Grove, but lets face it, we're not always the best structured," he said.
"We're starting with all new management and staff because service is paramount. We want to keep the atmosphere and coolness but with precision on top-notch customer service."
To better implement those changes, Harver has brought back Simon Kenneally, who served as general manager at the old location from 2010 to 2011. Kenneally will work as service manager of Guy's at the Grove.
"I'm familiar with the dynamics of the venue, its history, its strengths and its weaknesses," Kenneally said. "So I'm not coming in blind. I'm coming in under a fresh initiative to really pull the service level up to where it always needed to be."
Amy Lisi, who also formerly worked at The Lemon Grove, will return as its new business manager. She will handle the administrative aspects of the operation such as inventory and money management.
In the coming weeks, the location will be adorned with new signs, including one that reads "Guy's at the Grove" and two others that read "The Lemon Grove" and "Guy's Award Winning Barbecue Sauce."
Kitchen and dining room staff at the venue will wear Guy's at the Grove uniforms and event staff will sport T-shirts with a newly designed Lemon Grove logo.
All regularly scheduled events will continue to occur, even as Harver and Hughes plan scaled back hours to make changes. Harver stressed that The Lemon Grove's cultural mission and atmosphere will be unchanged, adding it will likely be stronger now that he is free to focus more on the quality and scheduling of events.
In September 2012, the Lemon Grove faced two lawsuits, one seeking more than $20,000 in compensation related to property damage at its former location and another from a disgruntled shareholder in the business seeking to recover his investment.
Both of those cases have since been resolved outside of court.