Cavs' Gilbert: firing Brown was a mistake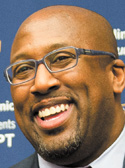 ---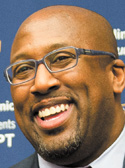 Photo
Associated Press
Independence
Three years later, Cavaliers owner Dan Gilbert owned up to a monumental mistake.
He's trying to correct it.
Mike Brown gave him a second chance.
Conceding publicly for the first time that he should have never fired Brown as Cleveland's coach during the turbulent summer of 2010, Gilbert said Wednesday he's thrilled to be able to re-hire the most successful coach in franchise history.
Brown, who led the Cavs to the NBA playoffs in each of his five seasons with the club, has reunited with a team he guided to its greatest success and the owner who fired him after Cleveland was eliminated from the 2010 playoffs — not long before LeBron James decided to bolt as a free agent.
"Yeah, it was a mistake. Sure it was a mistake," Gilbert said of his choice to sack Brown. "We have the benefit of hindsight right now, and in hindsight it was a mistake. That summer we went through three years ago was a unique time for us as a franchise and the uncertainty on a lot of levels. We are very happy that we get to rectify any position we took back then.
"Maybe he's meant to be here."
Brown was re-introduced by the Cavs at their training facility following a lightning-fast second courtship with the Cavs he described as "surreal." Flanked by Gilbert and general manager Chris Grant, Brown was accompanied by his wife, Carolyn, and their teenage sons — just as he was in 2005 when Gilbert took a shot on a then-relatively unknown assistant from Indiana for the first time.
Brown, who was fired just five games into this season by the Los Angeles Lakers, said he has no reservations about returning to work for Gilbert or coaching again in Cleveland.
"It's funny how life works out," he said. "But the one thing that I do I know is from afar, Cleveland has always been special in my heart and in my family's heart. You feel the commitment from a guy like Dan Gilbert and if it happens, you feel like one of the luckiest guys on the planet.
"Things work in a mysterious way and I'm excited to have the opportunity again."
Gilbert opened the news conference by saying, "Welcome to Mike Brown 2.0. We certainly enjoyed 1.0." Gilbert later joked that he "didn't want to do a George Steinbrenner imitation or anything," referring to the late New York Yankees owner's penchant for hiring and firing manager Billy Martin.
Less than a week after firing Byron Scott, the Cavs signed Brown to a guaranteed four-year contract with the club holding an option for the fifth year. The deal is worth approximately $20 million. It's not immediately known how much of Brown's owed salary from the Lakers is being absorbed by the Cavs.
Brown went 272-138 in his five seasons with Cleveland and, obviously helped by James, got the team beyond the first round of the playoffs each year. He was named the league's top coach in 2009, led the Cavs to consecutive 60-win seasons and his .652 winning percentage is sixth highest in league history for coaches with at least 400 games.
He was the best coach available — by far— to the Cavs, who gauged Phil Jackson's interest before moving forward. The Phoenix Suns are believed to have contacted Brown, who replaced Scott, the man who replaced him in 2010.