YSU baseball team splits twinbill with Kent State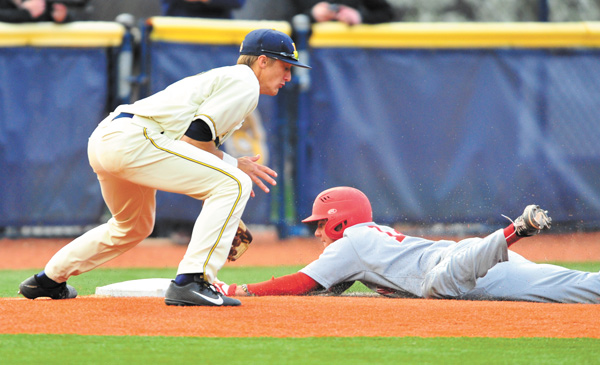 ---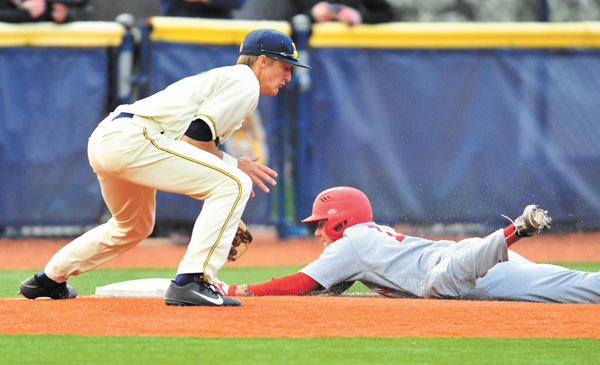 Photo
Youngstown State's Phil Lipari slides into third base, beating the tag of Kent State's Justin Wagler during the second game of a doubleheader Tuesday.
By Joe Catullo Jr.
KENT
Originally scheduled for a nine-inning game against Kent State on Wednesday, Youngstown State had to play two seven-inning games to make up for some games lost due to bad weather.
YSU routed the Golden Flashes, 10-4, in the first game before falling, 5-2, in the second. It was also Schoonover Stadium's first-ever night game.
YSU coach Steve Gillispie said he only likes doubleheaders because it gives non-starters an opportunity to play. One of those guys was Devin Higgins. Not only did he reach base all five times in the first game, but he also made a play that brought everybody out of their seats.
It was the bottom of the fourth inning and Evan Campbell led off with a fly ball down the left-field line. Higgins raced for it, leaned briefly against KSU's bullpen, leaped, flipped, landed on his back and held on to the ball. Cheers filled the stadium.
"I saw it kind of going over, and I just dove," Higgins said. "I hit the bench on the other side, which kind of hurt. I just wished it was on video to show my parents because it'd be good to tell them about that."
The play helped preserve Blake Aquadro's no-hit bid at the time.
"I didn't know it was going to be on the other side of the fence," Aquadro said. "I thought he was going to catch it, but then it started carrying and carrying. Then he just jumped in the air and caught it. I haven't seen anything like that since I've been playing."
Aquadro lost the no-hitter in the sixth inning but still earned his third win for YSU (13-29). He allowed three runs on one hit, walked one and struck out three.
"He was very good at changing speeds," Gillispie said. "He threw fastballs at both sides of the plate, threw breaking balls for strikes and was very good with the changeup. We were looking at a 50-pitch count. I think he went over that, but it was hard to take him out with a no-hitter."
YSU scored four times in the third inning and six in the fifth. Both times the Penguins batted around, and both times Aquadro had to throw in the bullpen just to stay warm. Higgins and Phil Lipari each had two RBIs.
In the second game, Josh North made his first start and allowed five runs in the first inning. YSU countered with two in the second inning, but then the KSU bullpen didn't allow a run or a hit the rest of the way. Kent State is 20-20.
"Overthrew a little bit and didn't locate as well as he's done in the past that we've seen him do on many occasions," Gillispie said regarding North. "A lot of balls got in the middle of the plate. I think they were probably geared to get after him a little bit early."
The Penguins return home today for a non-conference game against West Virginia.