Oh Wow! attracts prototypes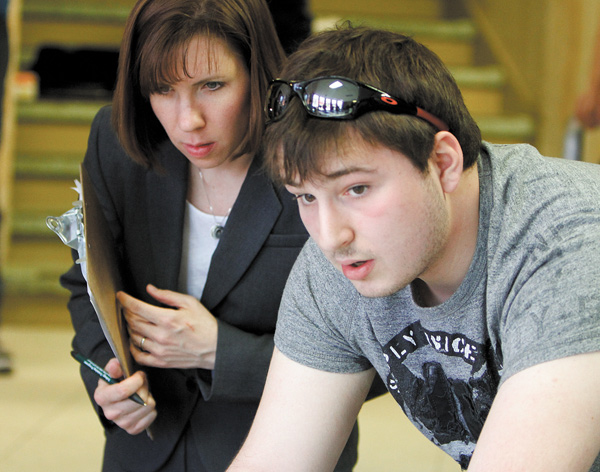 ---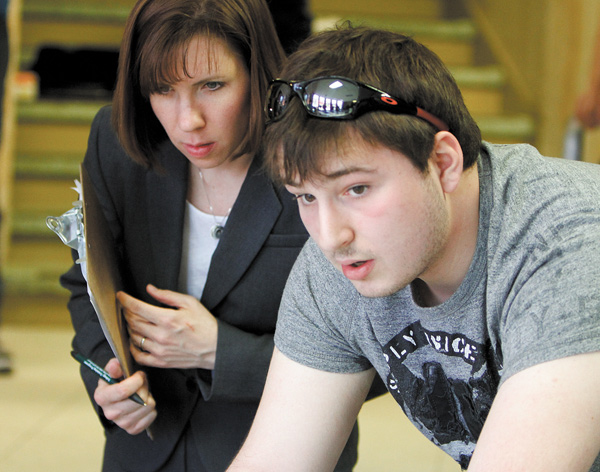 Photo
Donny Dixon, a first-year engineering student at Youngstown State University, and Kerry Meyers, director of the First-Year Engineering Program, demonstrate a prototype he designed and built for the Oh Wow! Roger & Gloria Jones Children's Center for Science and Technology downtown.
By SEAN BARRON
news@vindy.com

YOUNGSTOWN
Many people who see the project Ryan Moose, Getty List, Donny Yankle, James Limperos and Frank Ciapala designed likely will think it looks quite sharp.
And when it came to a competition's results, their work certainly didn't fall flat. In fact, it hit the right note.
"When we started it, we had no idea how to do it," explained Ciapala, a Youngstown State University freshman who helped build a 15-square-foot wooden piece displaying large capital letters that resemble a section of a piano.
The five YSU freshmen, all of whom are civil-, mechanical-
or industrial-engineering majors, spent much of the spring semester working on the project, one of four that took top honors during a contest for first-year engineering students Tuesday in Moser Hall.
Hosting the gathering was YSU's College of Science, Technology, Engineering and Mathematics.
Of the estimated 50 prototype designs, one of the top four will be a permanent exhibit at OH WOW! The Roger & Gloria Jones Children's
Center for Science & Technology in downtown Youngstown, noted Kerry Meyers, the engineering program's director and a mechanical-engineering professor.
Beforehand, the top ones will be presented to an exhibit committee and considered for permanent display at the children's museum, she said.
The piano prototype uses contact switches next to large, colorful foam letters corresponding to a C-major scale that, when stepped on, send a signal to a computer switchboard, Ciapala explained. The system is plugged into a laptop computer that immediately
relays the correct sound, he continued.
Complementing the project is a clear material the five students covered the piece with, called lexan, which is 250 times stronger than glass, Ciapala noted.
"It's for anyone of any age; kids and adults will like this," Yankle added. "That's what we were going for: something that entertains but is a nice concept to learn."
Another project that definitely has built-in entertainment and scientific value is the "Angry Penguin Catapult," the jumpy brainchild of Brandy Robbins, Jared Clark, Chris Beaman and Yaqoub Alshawf, all of whom are majoring in mechanical, industrial or chemical engineering.
Users launch a small penguin from a plastic cup, with a counterweight in a corresponding one, then compare theoretical results of distance, angle, height and measurements with those on a computer program, Robbins and Clark noted.
Children at OH WOW! could use the device in conjunction with the center's building-block station, Robbins added.
John Fogerty, lead singer of the popular southern rock band Creedence Clearwater Revival, might be pleased to see what Kyle Hogan, Zach Milush, Ian Schantz and Chan Puichan have accomplished.
"We came up with the idea to build it, then built most of it at my house," said Hogan, referring to the project they titled "Big Wheel Keep on Turning," a line from the CCR hit "Proud Mary."
The four engineering majors built a platform with pressure-treated wood and affixed a 20-inch bicycle wheel suspended from the end of a jump rope to demonstrate the physics behind centrifugal force, Milush explained. The wheel is held at a 90-degree angle and spun, and operates on a principle similar to that of rack and pinion steering, he continued.
Other projects included a "Dinosaur Dig," in which plastic dinosaurs are buried then dug from biodegradable sand; "The Red Baron II," which featured a plywood enclosure to demonstrate the effects of wind on a small plane; and an
experiment on the relationship between highlighter-pen ink and water.
"They put a lot of work into this," Meyers said. "What the students have done has
exceeded my expectations."