Community of Faith Credit Union seeks financial support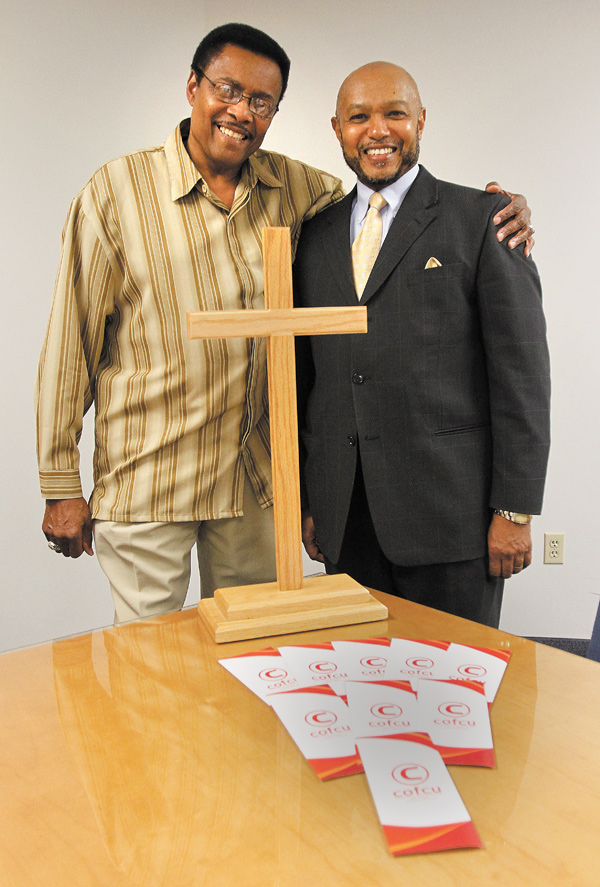 ---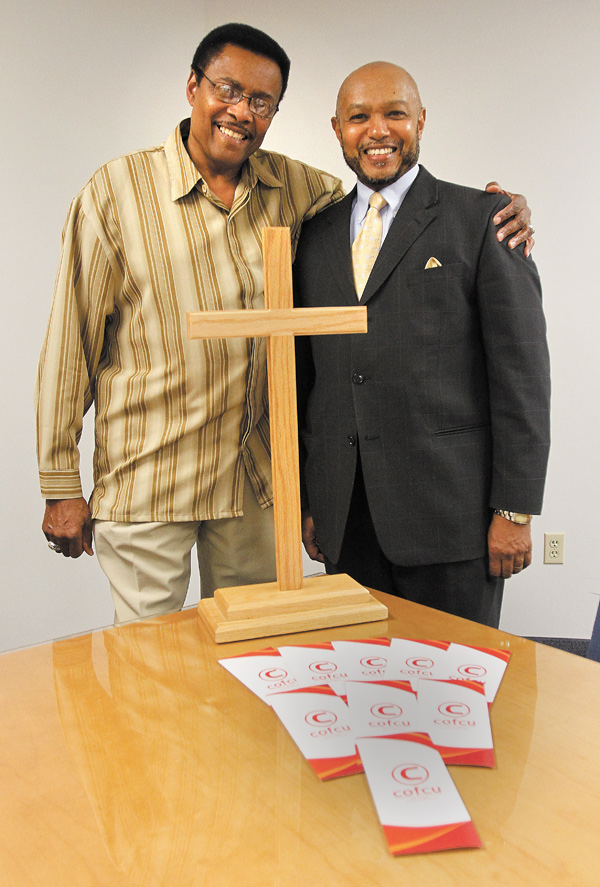 Photo
The Rev. Henry L. McNeil, left, serves as president of the Economic Empowerment Steering Committee of the Community of Faith Credit Union with the Rev. Kenneth Simon as vice president. Brochures about the COFCU are on the table. This week, a letter campaign begins to raise funds.
By LINDA M. LINONIS
Youngstown
This week, Community of Faith Credit Union will mail letters to about 100 churches in the Youngstown area seeking commitment and financial support.
It needs both to move from the planning stage to reality, said the Revs. Henry L. McNeil, president, and Kenneth Simon, vice president, of the Economic Empowerment Steering Committee of the credit union.
Phone calls will follow the letter campaign whose goal is $150,000. That amount will qualify COFCU for $1.5 million in nonmember deposits from the Ohio Credit Union League.
"We're hoping churches will commit to giving $1,000 or more — or less if they're smaller," the Rev. Mr. Simon said. Donations also will be accepted from individuals and businesses. Ten churches have committed to the project.
The goal of the credit union is to help low-income people become financially literate and provide services such as checking accounts and loans.
"I see it as a mission and ministry ... this isn't about saving souls but empowering them," Mr. Simon said. "Through free credit-union programs on debt elimination and credit counseling, we'll teach people how to be self- sufficient and self-sustaining."
The Rev. Mr. McNeil said, "Such a credit union would help community residents financially and that would benefit the community overall." He cited 1 Timothy 5, "But if any provide not for his own, and specially for those of his own house, he hath denied the faith, and is worse than an infidel."
"The idea was birthed in 2002," Mr. Simon said. It came out of a banking issue relating to a loan for a $3 million building project at New Bethel Baptist Church, where Mr. Simon is pastor. That experience revealed the need for options.
The Interdenominational Ministerial Alliance, Baptist Pastors Council and Community Mobilization came on board. "We sent out surveys to about 50 churches to gauge the interest of churches and congregants," Mr. Simon said. The result was positive enough to move forward but then the movement floundered.
The idea was resurrected during a "town-hall meeting" at New Bethel in 2007. Mr. McNeil became involved and saw the need for such a credit union. "There was concern about predatory lenders," he said. "Low-income residents were most vulnerable to this practice." He heard stories about high check-cashing fees from Social Security recipients.
Mr. Simon acknowledged there are many "hoops and loops" to get through with the Ohio Commerce Department but the community movement is gaining momentum. COFCU must write a charter, secure insurance and have financial assets. Once that is in place, the steering committee will turn over control to a board of directors.
Mr. McNeil, who worked as an auditor, also put in 33 years at LTV Steel where he was an assistant con-troller at a Pittsburgh plant. He brings that financial savvy to the fledgling credit union.v
"The FOM — that is, the field of membership — is Youngstown and anyone who is part of a religious group," Mr. McNeil said. That makes the membership base broad.
Mr. Simon said no credit union had been chartered in the Buckeye State for some 24 years until a Hispanic credit union in Toledo formed about two years ago. "We're using that model," he said.
Mr. McNeil said Catholic Charities is funding a business plan for COFCU. "They see it as an opportunity to partner and help the inner city."