Canfield softball team tops Poland again
---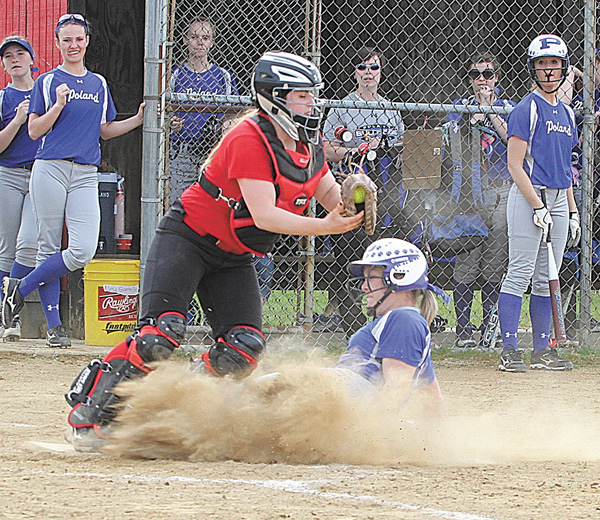 Photo
Poland's Taylor Miokovic is out at the plate on a force play as Canfield catcher Amelia Manenti takes the throw during a game Tuesday. Canfield won, 4-3, on Kayley Keller's walk-off home run in the seventh inning.
By Brandon Judeh
Canfield
The Canfield softball team has struggled against Poland over the last five years. In fact, the Cardinals' current seniors had never beaten the Bulldogs — until this week.
Kayley Keller's solo home run — a no-doubter over the right-center field fence — gave Canfield a 4-3 victory over Poland. The win came 24 hours after the Cardinals' convincing 8-2 road win over the Bulldogs on Monday.
This one was pitchers' duel throughout as Canfield's Abby Baker and Poland's Kasie Serich matched each other pitch for pitch.
"Never beating Poland and then beating them twice during your senior year is just great," Baker said. "I feel like I can graduate tonight and be happy. Just kidding — we still have a lot of unfinished business to take care of."
With the score tied at 3 in the bottom of the seventh inning, Keller came up big for Canfield (9-4, 5-1 All-American Conference, American Division) and was mobbed at home plate by her teammates.
"It was very exciting to be able to win the game and do this for my teammates," Keller said. "It looked like she threw me an outside fastball. It's good to come out during our senior year and beat this team on back-to-back nights. It feels amazing after struggling against them for so long."
The homer was Keller's second solo shot of the night. The lefty's first came in the fifth inning when she lined a screamer over the right-field fence.
Sophomore Rachel Tinkey hit a solo shot in the first inning.
"I actually thought it was going to be a fly-ball out," she said. "I think the wind helped it get over."
The ball bounced off the top of the left-field fence and bounced over to tie the game at 1.
But Tinkey's biggest contribution might have come on the defensive end, as the shortstop made consecutive plays in the top of the fourth inning that got Canfield out of a jam.
Poland (13-4, 4-3) loaded the bases with one out. The Bulldogs' Phoebe Bush hit a sharp grounder right at Tinkey, who quickly fired the ball to home plate.
It was a close call, but the runner was out and Canfield was one play away from escaping the inning unscathed.
"That was a huge point in the game," Tinkey said. "Abby was working hard on the mound and made some great pitches to get out of the jam. I knew I was going home with the ball as soon as it was hit to me."
On the next play, Tinkey fielded a grounder and forced a runner out at third to end the inning.
"Our team came out ready to play today, but I have to tip my cap to Canfield for playing as well as they did," Poland coach Matt Campbell said. "Yesterday's 8-2 loss was a wake-up call for us and I think we responded well."
Poland's Marissa Trevis hit a home run and Aleah Hughes added a triple.
Canfield's Kara Rothbauer had a run-scoring double.