Recycled Christmas trees improve fishing in lake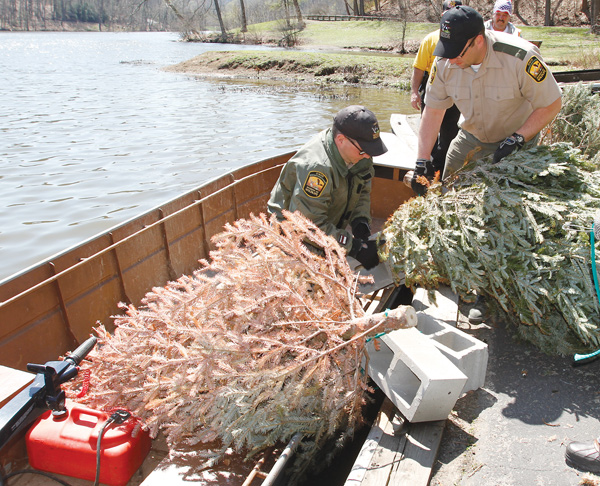 ---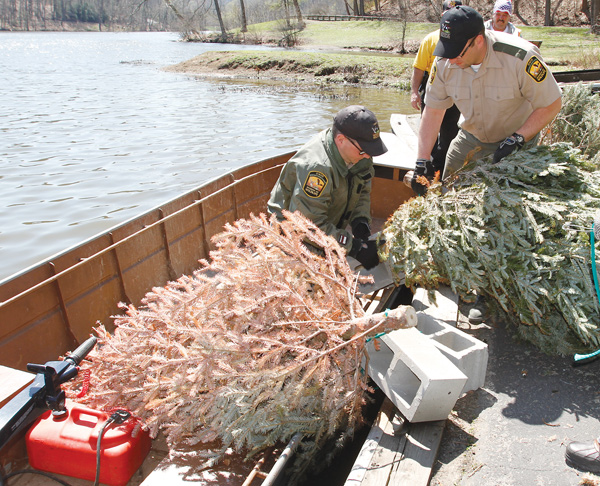 Photo
Dan Wright, a state fish-management technician, right, moves trees with attached concrete blocks to Matt Wolfe, state fisheries biologist, to be deposited into Lake Glacier near the Old Log Cabin on Price Road as fish habitat.
YOUNGSTOWN
Recycled Christmas trees were put to a new use in an Earth Day event at Mill Creek Park's Lake Glacier.
About 50 of the trees were deposited there to provide habitat for fish in a joint effort Monday afternoon by state wildlife officials and the Mahoning County recycling division and sheriff's office.
Ohio Department of Natural Resources personnel dropped the trees, weighted down with concrete blocks, from a motor boat into 6 to 8 feet of water on the west side of the lake, about 20 yards off the park's 1814-vintage Old Log Cabin on Price Road.
In this annual effort, day-reporting work-detail inmates provide free labor in collecting the trees from recycling drop-off sites and unloading them at shorelines under deputy sheriffs' supervision before they are deposited in local lakes. The trees dropped into Lake Glacier came from the Austintown Township Park recycling drop-off site.
"The fish kind of all flock to these trees. They lay eggs. It becomes a breeding ground for them. They attract other fish, and it's a way for us to reuse all of these Christmas trees that we've collected," said Lou Vega, the county's interim recycling director.
"The Christmas trees
make excellent fish habitat. They actually provide the shade and shelter that smaller fish look for," and this attracts the larger predatory fish, explained Kirsten Peetz, Mill Creek MetroParks natural- resources manager. "It makes for a good fishing spot," she added.
"[The trees] sit in the water. They start to decompose, and then bugs will come and eat the decomposing wood. Little fish will come to eat the bugs, and then big fish will come to eat the little fish," explained Dan Wright, an ODNR fish-management technician.
The event was designed to promote fishing, recycling and the Mill Creek MetroParks, according to Jamey Emmert, ODNR wildlife communication specialist.
As far as she knows, this was the first time for the trees to be dropped in Lake Glacier, Peetz said.
Serving as fish concentration structures that help anglers catch more fish, the trees are normally deposited in six to eight feet of water and last about three years as fish habitat.
In recent years, the trees have been deposited in Berlin Reservoir, Lake Milton, West Branch and Mosquito lakes and other major Ohio lakes after being collected from recycling drop-off sites and Christmas-tree vendors' unsold stock.
This year, about 2,000 of the recycled trees were dropped into the Yellow Creek area of Berlin Reservoir off Fewtown Road in Deerfield.
Besides the trees, ODNR has used wooden pallets and recycled utility-cable spools to create fish habitats in Ohio lakes.
Due to last year's drought, many of the trees placed at Berlin Reservoir in late winter couldn't be used by fish because the trees remained high and dry on the shoreline last summer. Berlin is primarily a U.S. Army Corps of Engineers water storage lake, whose level fluctuates based on water flow maintenance needs in the Mahoning River.
With the more stable water level at Lake Glacier, which is operated by the local park district, the trees here are likely to remain submerged, Peetz said. "As a rule, we do not manipulate the water level here. It just stays constant," she said.
ODNR improved the fishing in Lake Glacier by releasing about 2,500 rainbow trout into it April 4. Because they are a cold-water species, "They don't tend to survive through the summer, but, definitely, for a month or so, they're still around," in Lake Glacier, Peetz said of the trout.