Phantoms preparing for top-seeded Dubuque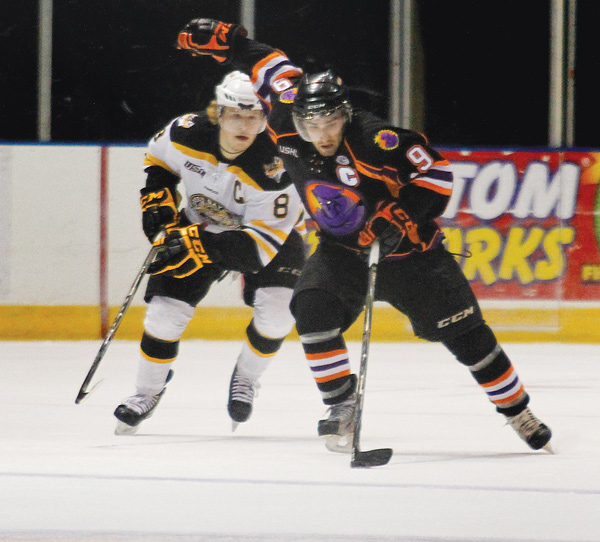 ---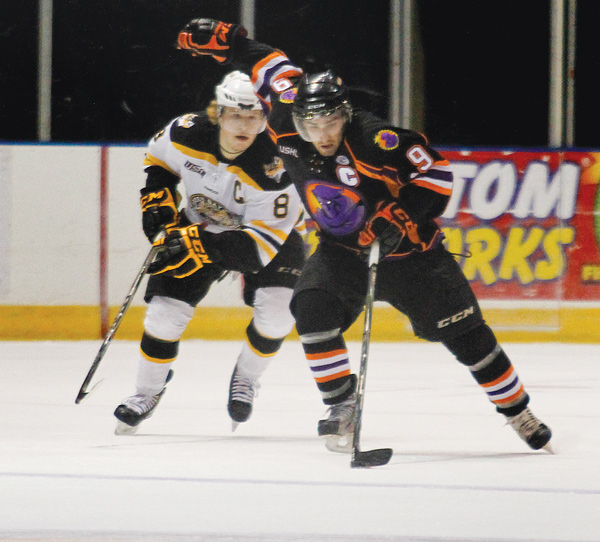 Photo
Phantoms forward Austin Cangelosi (9) skates away from Green Bay's Sheldon Dries (8) during Sunday's game at the Covelli Centre.
By Tom Williams
YOUNGSTOWN
After eliminating the defending USHL champions in four games, the Youngstown Phantoms tried to take the franchise's first best-of-five series victory in stride.
"At no point was beating Green Bay or winning a first-round playoff series our goal," Phantoms head coach Anthony Noreen said after Sunday's 3-1 victory over the Gamblers in Game 4. "Our goals are much bigger than that.
"It's definitely a step our program needed to take to beat a team like that in a five-game playoff series."
Next up for the third-seeded Phantoms are the top-seeded Dubuque Fighting Saints, who swept the Muskegon Lumberjacks in three games in the other Eastern semifinal.
Games 1 and 2 will be played at Dubuque's Mystique Community Ice Center on Friday and Saturday.
Game 3 will be played at the Covelli Centre on Monday. If necessary, Game 4 will be there on April 30. Game 5 is set for May 4 in Dubuque.
Against the Gamblers, the Phantoms gave up the first goal in every game. After losing the first game 3-1 in Green Bay, the Phantoms won by scores of 4-2, 4-2 and 3-1.
"We expected to win the series," Phantoms defenseman Tommy Davis said. "We have an edge to our team. We play our best when we're cocky, confident, [playing] in-your-face hockey. [This] was expected in our locker room."
The Phantoms did it by shutting down Green Bay's top-ranked power play. The Gamblers went 2-for-14 with the man advantage and did not score a power-play goal in their two losses at the Covelli Centre.
"That's awesome going against that power play," defenseman Eric Sweetman said. "They are one of the best."
Noreen agreed.
"There's a reason they've been in the finals and won the Clark Cup two of the last three years," the second-year Phantoms head coach said. "They are an elite program, obviously.
"You see the skill level, you see the compete level. There are no holes in that team. I don't think there was one easy piece of ice for either team at any point during the series which made for great playoff hockey."
Three weeks after losing three teeth when a puck struck his mouth, forward Cam Brown led the Phantoms' offense with four goals.
"The biggest thing is we can't get too high or too low — try to keep an even keel the whole series," Brown said. "That's something that's said in the locker room all the time."
Goaltender Sean Romeo limited the Gamblers to five goals in the final 180 minutes of the series
"Defensively, we've been unreal and Romeo has shown he's one of the better if not the best goalie in the league," defenseman Dan Renouf said. "We're lucky to have him. If he's playing like that, we'll go far."
Renouf admitted that avenging last year's ouster was special to the players who returned to Youngstown.
"There was a bitter taste with this team," said Renouf who will play with Brown next fall at the University of Maine. "It's definitely really nice to beat them out and see them go home because they did the same thing to us.
"The way we did it with our new team — couldn't be happier."