Ursuline's Donko dominates in victory
---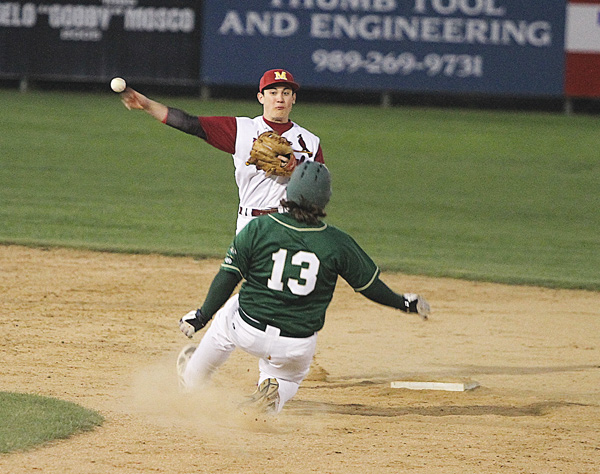 Photo
Ursuline's Vinnie Boerio (13) tries to break up a double play as Cardinal Mooney's Gino DiVincenzo fires to first base during a game at Cene Park on Monday night. Ursuline won, 7-2.
By Steve Wilaj
STRUTHERS
Ursuline pitcher Sam Donko had faced Cardinal Mooney twice before and went into Monday night's game at Cene Park with a well thought-out plan.
"I wanted to pound the zone a lot," he said. "I knew they have some good hitters that hit the fastball well. I wanted to try to keep them off-balance and keep them off the base paths, because they have a lot of speed."
Donko's plan worked. He struck out 14 and pitched a complete game as the Fighting Irish defeated the Cardinals, 7-2.
"Sam's a big game pitcher and, in my mind, he's one of the best pitchers in the state of Ohio," said Ursuline coach Sean Durkin. "He wants the ball in big game situations and today was one of them."
Donko (4-0), who allowed two runs on four hits and one walk, admitted to enjoying the "big game."
"There's always a little more motivation and adrenaline pumping when you're playing your rival," he said. "Especially under the lights — it's a big game and you want to perform well."
Donko also got the Irish (9-0) going offensively in the first inning. With two outs, he singled to left field off of Mooney starting pitcher Joe Cunningham.
Harry Finelli followed with another single. Donko then came around to score on a two-out single by Michael Montalbano to give Ursuline a 1-0 lead.
"We really hit the ball well today," Donko said.
The Irish made it 2-0 in the bottom of the third inning thanks to another two-out knock by Montalbano that scored a run.
But Mooney (5-5) fought back. The Cardinals scored their first run in the top of the fourth when Donko was called for a balk. Later in the inning, Gino Divincenzo tied the game at two with an RBI single.
However, from there on out, it was all Ursuline. The Irish used two Mooney errors and two bases-loaded walks in the bottom of the fourth inning to score five runs.
"When we answered with five, I think it took the wind out of their sails a little bit and gave Sam the confidence he needed to close it out," Durkin said.
Donko, Anthony Rohan, Joel Hake, Montalbano and Vinnie Boerio all had two hits for Ursuline. An RBI single by Hake started the five-run fourth inning rally.
"Hake had a big hit that really got us going," Donko said. "He's been kind of cold and he finally heated up and we're really proud of him."
Cunningham gave up seven runs (three earned) on seven hits in only 32/3 innings.
"Offensively, we've really come around the last week," Durkin said. "We're starting to get to the point where we're getting in a little groove and hopefully we can continue to build offensively."