MCCTC students sport fashions from trash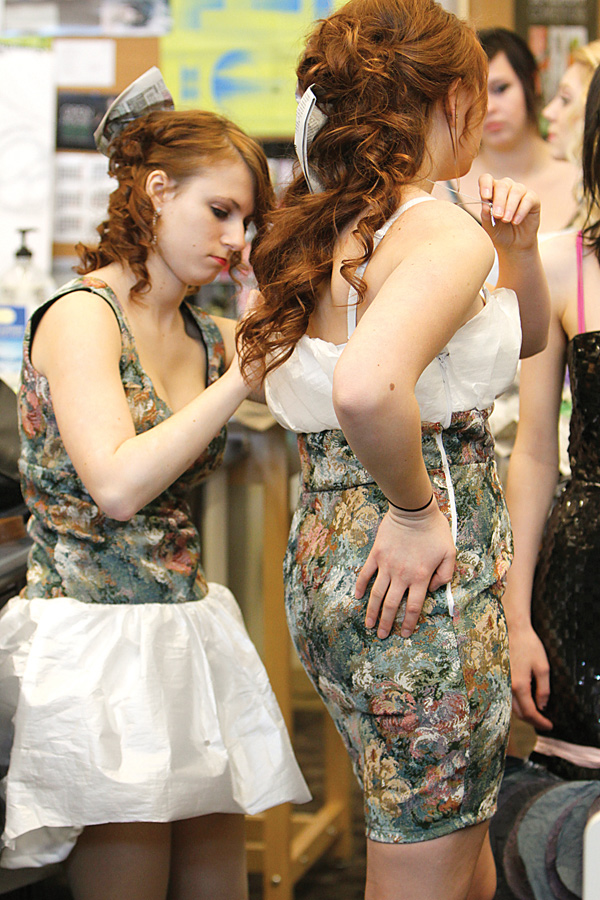 ---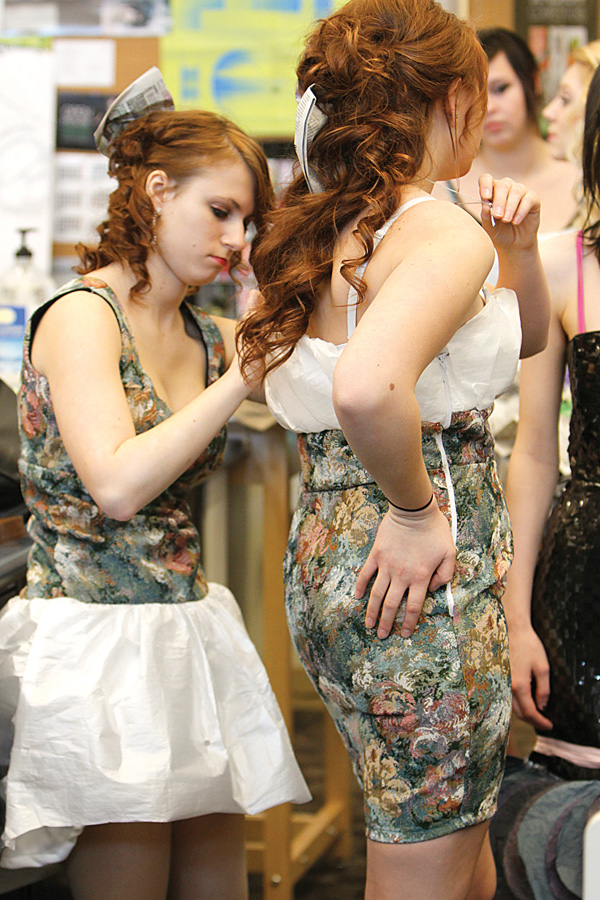 Photo
Alyssa Higgins of Jackson Milton, back, and Morgan Stickle of Boardman put the finishing touches on their dresses for the Trash Bash fashion show. The girls' dresses are both made out of upholstery material and foam. Monday's event marked the sixth year for the creative fashion show at the career center.
By Denise Dick
Canfield
Students in the interactive multimedia class at Mahoning County Career and Technical Center fashioned everything from sheet music and videotape to trash bags and coffee filters into clothing for the school's sixth annual Trash Bash for Earth Day on Monday.
Teacher Melissa Hackett and Kim Lewis, education specialist with the Mahoning County Green Team, told students to use anything "destined for the trash or recycling" in creating their looks.
"Kids realize things that are discarded are resources that can be recovered and reused," Lewis said.
Melissa Smith, a junior from Austintown Fitch, used an old umbrella to form the skirt of her dress.
"It took a long time because I had to take out all of the metal pieces in it," she said.
She then stitched it to an old corset to form the bodice of the dress, glued on broken mirror pieces and some lace to create her one-of-a-kind ensemble.
"I wanted to make something that would be different," Melissa said. "I didn't think anyone would have something like it."
Senior Caitlin Vance from Lowellville pulled the tape from three old videotapes and weaved them to form the top of her dress.
"They were just old tapes we had around that no one was using," Caitlin explained. "One was from an old vacuum cleaner, telling you how to put it together. We don't even have it anymore."
About 400 used coffee filters dipped in black paint made the skirt and train.
Hackett said some of the materials students used came from their homes. They also asked classmates to bring in materials.
Senior Alyssa Higgins from Jackson-Milton used upholstery fabric and foam for her dress.
Jillian Bailey, a senior from West Branch, got her co-workers at Panera Bread to help her collect materials for her creation.
Jillian used more than 500 Panera gift cards pinned to an old prom dress for her gown. She even created earrings using the cards.
"I asked my co-workers to save all of the used gift cards for me," she said.
Her classmate, Ryan Fife, a junior from Jackson-Milton, made a shield, helmet and spear using the used Panera gift cards.
"They just get better every year," Lewis said of the students' creations.