Brown still top candidate for Cavaliers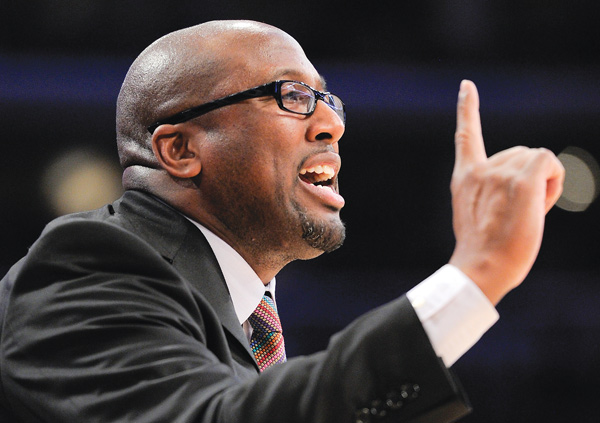 ---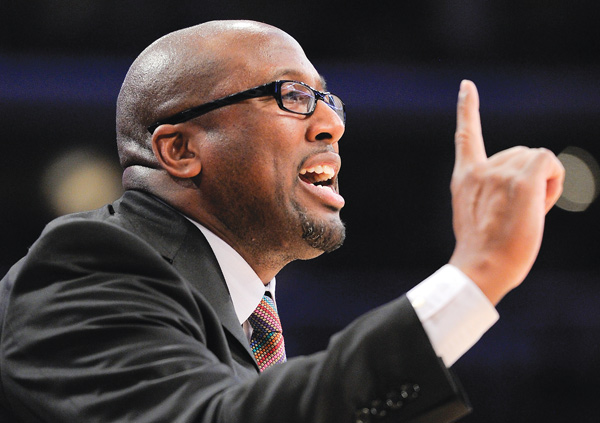 Photo
Mike Brown gestures during a Los Angeles Lakers game against the Chicago Bulls in Los Angeles. The Cavaliers intend to speak with Brown, who was fired by the Lakers earlier this season, about returning to Cleveland. Brown was fired by Cleveland three years ago after five seasons as head coach.
Associated Press
CLEVELAND
When the Cavaliers hired Mike Brown as their coach in 2005, owner Dan Gilbert first talked to Phil Jackson about coaching in Cleveland.
Eight years later, that same scenario appears to be playing out again.
Brown remains the leading candidate to return to Cleveland and replace Byron Scott, who was fired last week following his third losing season with the Cavaliers. On Saturday, a person with direct knowledge of the situation told The Associated Press that Brown was open to reuniting with a franchise he led to five straight playoff appearances and the NBA finals.
Brown met on Sunday night with Gilbert, who fired him in 2010 after the Cavs were ousted by Boston in the Eastern Conference semifinals. It's not clear where the meeting took place, but Brown has been in the area recently because he's moving his family back to Cleveland — a decision he made long before Scott was fired.
WKYC-TV first reported Brown and Gilbert were going to have dinner together. It's not known if Brown, who went 272-138 with Cleveland, was offered the job.
Gilbert has always held Brown in high regard. He hired him as his first coach with the Cavs — not long after interviewing Jackson — and Brown grew from a relatively unknown assistant with Indiana to the league's top coach.
Of course, it helped that LeBron James was on Cleveland's roster, but Brown's defense-first philosophy transformed the Cavs from competitive to title contenders.
The Cavaliers are not commenting during their search, which began almost immediately after Scott was fired last Thursday.
Messages seeking comment were left for Brown and general manager Chris Grant.
There's a comfort factor for both Brown and the Cavs if they decide to get back together. The Cavs know him, he knows them and except for James being elsewhere, Brown would inherit a similar situation to the one he received in '05 when the Cavs went 42-40 and Gilbert fired Paul Silas with 18 games left in the season.
In Kyrie Irving, the Cavs have a bona fide All-Star on the rise and potential franchise player to build around. They also have a young nucleus of talent, a treasure chest of draft picks, salary-cap space and Gilbert's willingness to spend to win.
Those assets — and Gilbert's deeper-than-Lake Erie pockets — could be enough to lure Jackson out of retirement. The 11-time NBA champion has told people he's itching to get back into the pro game in some capacity. Lakers fans pleaded with him to come back during a recent Staples Center appearance when Shaquille O'Neal's jersey was retired.
FOX Sports Ohio reported the Cavs reached out to Jackson over the weekend.
Jackson was approached by Gilbert in 2005, and there's little doubt the billionaire would gauge the Zen Master's interest before talking to any other coaches.
Brown could be coveted by several teams with openings, but none of them appears to be a better situation than the one he would have in Cleveland.