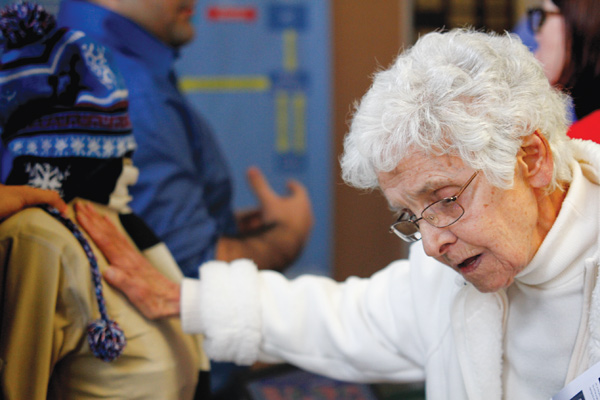 ---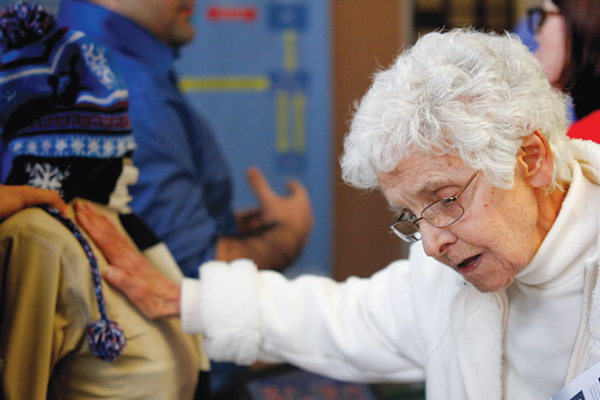 Photo
Julia Smaldino of Youngstown feels the heat coming from a piece of fabric that was used for an automated garment-heating system. The system was a project for Youngstown State University's Science, Technology, Engineering and Mathematics, or STEM, showcase Sunday.
By Bob Jackson
YOUNGSTOWN
Science and technology students at Youngstown State University stepped into the limelight Sunday at the annual STEM Showcase in Moser Hall.
Some 50 projects created by about 150 students were on display for visitors, said Dr. Martin Abraham, dean of the College of Science, Technology, Engineering and Mathematics.
The projects included an Android phone app, a concrete canoe, a mini Baja car, an examination of what causes suspension bridges to collapse and alternative fuel for gasoline-powered engines.
"It's really an opportunity for the students to showcase the work they've been doing, in some cases for a year or so, and to talk about it and put it on display for their family and friends and the public," Dr. Abraham said. "I've seen all sorts of great things here."
One of the projects, designed by a group of senior mechanical engineering students, was conversion of a gasoline-powered engine to run on natural gas.
"We wanted to see the same performance, or at least as close as we could get to it, regardless of which fuel was being used," said Steven Rakocy, who designed and built the project with Aubrey Garland, Bret Bole and Adam Restifo.
Garland said she became interested in the project because she intends to work in the oil and gas industry after her graduation from YSU.
"There is a lot of potential for this area to develop because of the presence of the Marcellus and Utica shale here," she said. "This type of technology is out there just waiting to be developed" for everyday use in vehicles, she said, noting that natural gas is a cleaner and cheaper alternative to gasoline.
Not far away, students Jacob Kreatsoulas and Matt Virostek were showing off the automated garment- heating system they designed.
"This is designed to take the place of layering, for when you're outside in cold weather," Virostek said.
Virostek and Kreatsoulas said they came up with the idea because they both snowboard in the winter, and they wanted a better method of keeping warm without bulky clothing. They designed a system that uses a heating element placed inside the garment, regulated by a thermostat that causes the element to turn on and off automatically as needed.
Dr. Daniel H. Suchora of the mechanical and industrial engineering department coordinated the event and said some of the projects were designed in conjunction with area businesses, which will use the technology.
One such project was a packing and transportation rack, which will be used by Humtown Products in Columbiana, for loading and shipping sand cores, which are produced by Humtown and sold to plants and foundries for creating mold castings.
Kevin Siembeda, one of the students who worked on that project, said it's expected to generate considerable time and cost savings for the company once it's put into place.
Suchora said the technology showcase first took place about 10 years ago by YSU's mechanical engineering department. It was eventually expanded to include all of the engineering departments, and eventually the entire STEM school, which includes 10 departments.
"We think STEM is the wave of the future — whether for economic development or just positive service to the economy," he said.