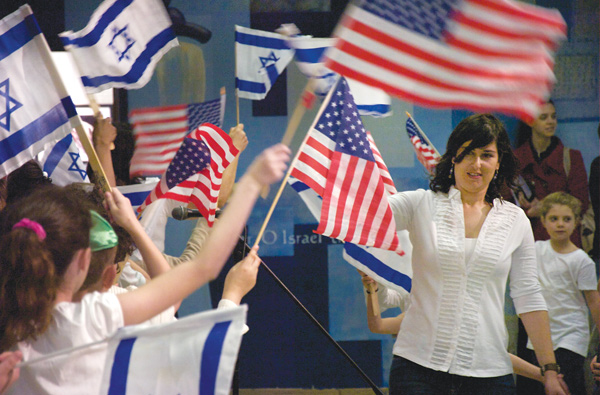 ---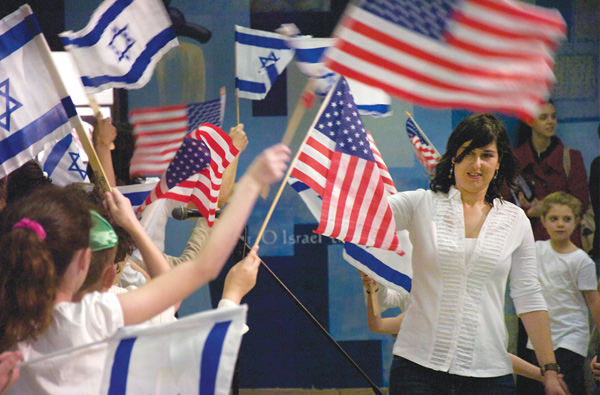 Photo
Talia Shlomi, a teacher at Akiva Academy, leads students during the opening ceremony Sunday of The Israel 65 Celebration at the Jewish Community Center in Youngstown. The event featured Israeli music, food, games and crafts.
By Sean Barron
YOUNGSTOWN
It's probably safe to say that Noah Persson's two weeks overseas were a tale of two circumstances.
First, the emotional piece: The 16-year-old Liberty High School junior spent the first seven days in Poland touring Treblinka, Auschwitz and other concentration camps where millions of Jews died during World War II.
Then came the lighter part. He spent the last half celebrating Israel's 65 years of independence before returning home Thursday.
"I took the trip for the experience, and thought I would regret it if I didn't go," explained Noah, who joined roughly 11,000 other members of March of the Living, an annual educational program that brings Jewish teens to Poland to study the Holocaust and the roots of prejudice and hate.
"It will stay with you the rest of your life," he said.
It was that same celebratory spirit that filled Noah as he attended The Israel 65 Celebration event Sunday at the Jewish Community Center, 505 Gypsy Lane on the North Side.
Accompanying Noah was his mother, Wendy Persson, who added that the trip shows young people the depth of the Holocaust while displaying the resilience of many Jews.
The all-day Israel 65 gathering recognized and celebrated the 65th anniversary of Israel's statehood, declared in 1948, noted Tomer Elooz, an ambassador to the Youngstown Area Jewish Federation.
While in Israel, Noah got caught up in celebrations along Jerusalem's famous Ben Yehuda Street, where he fondly recalled having been doused with shaving cream that revelers had sprayed.
Shaving cream was not in the mix for Noah on Sunday, however, but he was among the hundreds who came to the local celebration, which kicked off with about 40 youngsters in kindergarten through grade seven from the Akiva Academy School of Youngstown hosting an Isreali-American flag parade.
Many attendees partook of Israeli food such as red-pepper hummus, pita pizzas, falafels, tabouli and salads. Also featured were Israeli dancers, arts and crafts, T-shirt designing and entertainment from Zvika Arbel and Dolly Modai, both Israeli musicians.
"My mom used to say before I was walking or crawling, I was singing," said Modai, of Regba, Israel, adding that she played guitar in a jazz band at age 16.
She also is part of an organization called Partnership 2gether, a program that connects roughly 550 Jewish communities in the Diaspora while allowing Israeli Jews and those in partner communities to become more deeply linked.
Youngstown is one of 13 such communities, noted Sam Kooperman, the local Jewish federation's executive vice president.
Kooperman and Andrew Lipkim, the federation's assistant executive director, also pointed to Israel's major inventions, including the USB flash drive for computers and the drip-irrigation system, which more effectively delivers water to crops' and plants' roots via a network of pipes or tubes.
"Israel has done tremendous things in its 65 years," Kooperman said.
Most Israelis want peace and embrace a two-state system free of terrorism partly because a one-state solution is tantamount to the destruction of Israel, explained Atty. Bonnie Deutsch Burdman, the Jewish federation's director of community relations and government affairs.
Most Jews are proud of Zionism, something Dr. Martin Luther King Jr. referred to as "the dream and ideal of many Jews returning to live in their own land," so it's erroneous to equate Zionism with terrorism, Burdman noted.
Former Palestinian Liberation Organization chairman Yasser Arafat walked away in August 2000 from the final piece of the Oslo Peace Accords, which led to a spate of terrorist attacks that included bus bombings against Israel, resulting in the country's need to defend itself and build a security barrier to reduce suicide bombings, Burdman asserted.