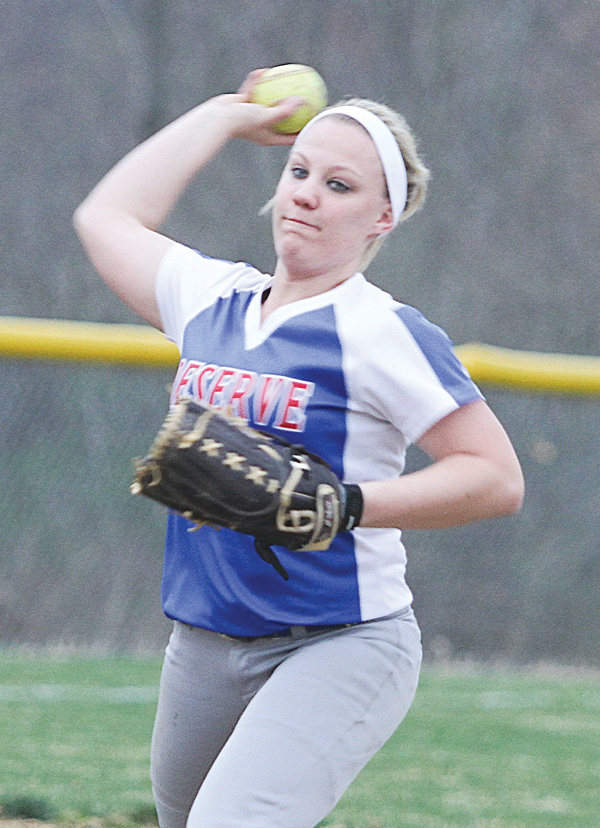 ---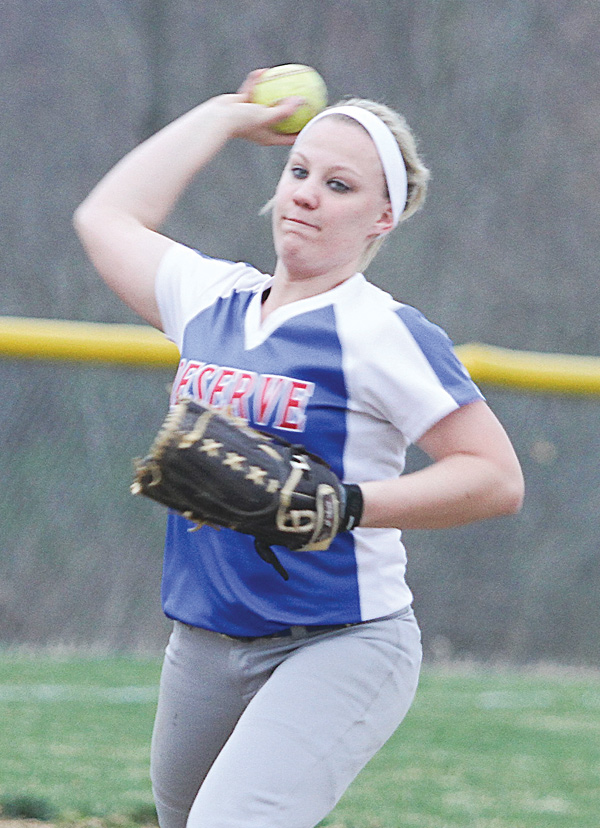 Photo
Western Reserve senior pitcher/shortstop April Lude is one of the reasons for the Blue Devils' strong start this spring.
Western Reserve pitcher/shortstop April Lude helps the Blue Devils start strong this spring
BERLIN CENTER
A funny thing happened on the way to practice last month.
Western Reserve senior April Lude had her No. 44 uniform damaged when her equipment bag fell off the back of a parent's pick-up truck en route to the team's first scrimmage indoors at Sluggers in early March.
That's why she's wearing No. 21 this year.
The mishap wasn't a big deal, but it disrupted the flow of fours that April (No. 44) and identical sister Brittany (No. 4) had.
"Last year they were 44 and 4," coach Laura Amero said of the sisters' uniform identities. "Someone forgot to put the tailgate up and April's bag got run over by a car and had to be replaced. She had to get new bat, glove and uniform. It was a freak accident," Amero said.
"I lost my uniform, belt, spikes and couldn't find my helmet because it was just bits and pieces," said April, noting that a teammate's helmet was also broken, while everything else was fine.
"I already had No. 44, but my sister's favorite number is 4, so she picked that," April said of Brittany's arrival a year before team before sister.
April Lude, a pitcher/shortstop, doesn't seem to mind 21 because it was her basketball uniform number.
April's other numbers include a 3-0 pitching record, 1.40 ERA over 15 innings, 20 strikeouts and seven hits and four walks allowed.
Lude along with freshman Maddie Kreitzburg (4-0) are the Blue Devils' main pitchers.
Western Reserve entered Thursday's game against Liberty (at Boardman High School at 4:15) with a 7-0 record. The Blue Devils ended 2012 with a 22-6 record after losing to Jackson-Milton in the Div. III district final.
"It was a nailbiter," Amero said of the extra-innings defeat to the Bluejays, whom Western Reserve beat twice during the regular season.
J-M has since moved up to ITCL Tier One, while Reserve stays in ITCL Tier Two.
Amero, now in her fourth season as head coach, thinks her girls have the team chemistry to have another successful season.
"We're stronger because we're more versatile," she said of more players who can play various positions that will allow the coach to prepare different lineups.
"Last year, we were limited to only certain positions people could play. Now it's much easier to make different lineups because I could put together different scenarios."
Amero, who played for Boardman High, then added another two years on the diamond at YSU before graduating, is the daughter of current Howland softball coach Bill Amero.
A showdown between the father- and daughter-coached teams will take place May 18 at Warren Harding.
Laura was a junior when Boardman won the Div. I state softball championship with her father as coach.
April Lude didn't play high school softball until her sophomore year because of a torn right ACL that happened during her freshman basketball season.
"I did it two months before softball began that year," Lude said of her missed season.
The coach called the 17-year-old daughter of Jim Lude and Lori Percy a dominant player.
"She's athletic and has one of the strongest swings I've seen," Amero said. "Between her and [2012 teammate] Sissy Stubbs, those two have phenomenal swings."
Likewise, in the field, Lude gets the job done and she's a threat at plate.
"She can pretty much hit anything," Amero said of April with a .421 average and a team-leading 13 RBIs and four home runs.
On any given day, Kreitzburg or Lude share the mound.
"We work on rotation, but, if one doesn't have her best stuff that day, they'll let me know," Amero said. "They're very honest with us and that helps the coaches and the team."
Although Brittany Lude pitches too, she was just cleared to return after a knee injury (left torn meniscus).
"We missed her on the pitching staff," Amero said recently. "We're going to slowly work her back into the mix."
When either Lude twin is pitching, Amero said their identity could be difficult.
"You pretty much never know who's on the mound because they look alike. You have to really know them. The only reason I could tell them apart is because I had them in class."
Western Reserve has a third Lude on the team: Alexis, a cousin.
"We call her "Red" because she has red hair," Amero said of Alexis, a junior.
In comparing her team's chemistry to a recipe, Amero likes the batter of her batters.
"We have a good mix, a good recipe of kids who are defensively solid and knowledgeable about softball. They have good instincts about their position and the game and they're always thinking one step ahead. That's hard to teach at the high school level, but they've been brought up a good way because of travel ball, which helps. Our lineup 1 through 9 could hit and bunt, either drag or slap."
To utilize their speed, Amero said, some right-handed hitters have learned to drag bunt by switch-hitting.
If the team has a weakness, it's youth.
"Even if they know softball in and out, we'll make young mistakes sometime. That may be a hurdle for us in pressure situations in big games, but that's something still to be worked out."