Curbstoners honor Bristol's Oliver, Lowellville's Solak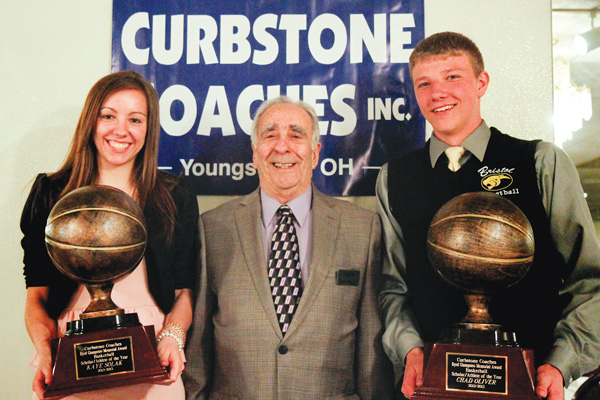 ---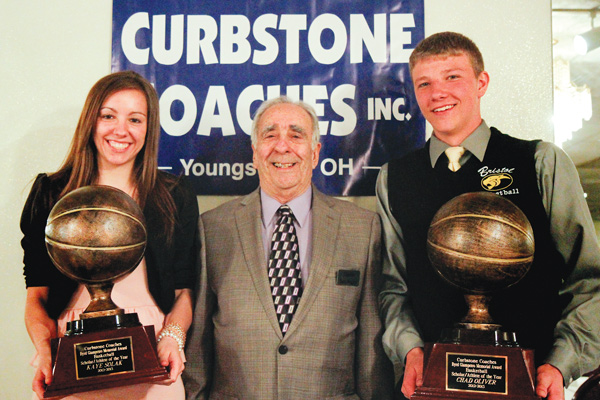 Photo
High school basketball standouts Kaye Solak of Lowelville and Chad Oliver of Bristol flank the Curbstone Coaches Association's Sam Rogers after receiving their student athlete of the year awards during the organization's annual basketball recognition banquet Sunday at The Georgetown in Boardman.
By Greg Gulas
Boardman
The common denominator for Bristol senior Chad Oliver and Lowellville senior Kaye Solak won't be found solely on the basketball court, where the two have combined to score more than 2,000 career points.
There is much more to this year's Curbstone Coaches student athletes of the year.
Both also excel in the classroom, carrying 4.0 grade point averages. Both will serve as valedictorians of their respective classes this June.
Like their common love for basketball, Solak and Oliver volunteer for a variety of causes, embracing community service while choosing to stay involved in school and extracurricular projects.
"Staying ahead of the game, budgeting your time and trying to get everything done in a timely fashion is the key," Solak said. "Time management and knowing what to do ahead of time, then planning it out is also very important."
A four-year starter, Solak scored more than 1,000 career points, helping the Rockets win four straight league and district titles, going 63-1 in the Inter Tri-County League's Tier Two. She earned first team all-district and third-team All-Ohio honors. She also helped establish the Ella Rose Solak 3-on-3 basketball tournament to help defray medical expenses for her sister, who had a serious heart condition.
Oliver, a three-year letterwinner, helped the Panthers to a 24-1 mark this season while scoring a single-season record 594 points and 960 overall for his career. The Trumbull County player of the year, Giesy also set Bristol records for points in a quarter (18) and in a game (43).
A member of the school's Beta Club, he has volunteered for numerous canned food drives, American Red Cross blood drives, Christmas toy drives and has also served as a baby-sitter when needed.
"In sports, you learn teamwork and patience and you can then apply those principles to your volunteer work, especially if baby-sitting," he said. "When you have a full plate you just have to learn balance. You have to work hard in order to get what you want, knowing full well that you only get out of something that which you put into it."
Solak will attend YSU in the fall and major in respiratory therapy while Oliver will attend Kent State on an academic scholarship. His major is undetermined but he is interested in studying pre-med.
Both athletes received $1,000 scholarships.
Other boy's finalists included Brandon Bensing of Lakeview, Ryan Bush of Salem, McDonald's Stephen Politano, Brookfield's Jeremy Quinlan and Jordan Thomson of Hubbard.
Girls finalists included Julia Clemente of Hubbard, April Lude of Western Reserve, Lisbon's Pamela Pierce and Ashlee Stubbs of LaBrae.