Bojo's Creamery set to open in Boardman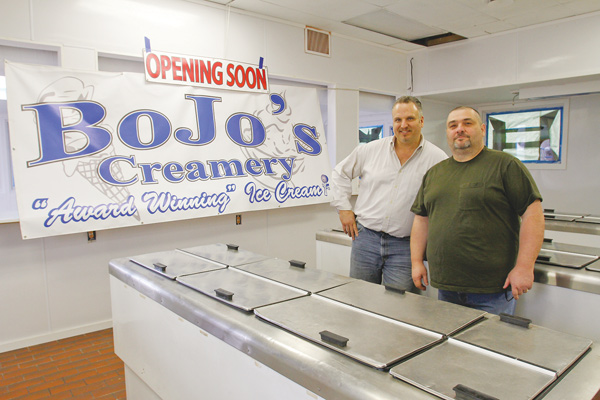 ---

Photo
John Evan and Bob McAllister stand inside their newest BoJo's Creamery store on Market Street in Boardman. The business partners plan to open the shop late this month.
Boardman
Boardman's newest ice cream stand will open later this month, just in time for warm weather.
BoJo's Creamery, which first opened an Austintown shop in December, will open on Market Street in the former Los Gallos Express building.
Bob McAllister and his partner John Evan are looking to expand the chain throughout the Mahoning Valley with either Niles or Salem eyed for their next location — expected sometime in the next year or so.
"We looked at and purchased the Boardman building because the drive-through is our main feature," McAllister said. "When it rains, people still want ice cream, and it helps the business."
BoJo's serves homemade hard-pack ice cream, similar to Handel's, McAllister said. It will offer 32 flavors, malted milkshakes and the company's staples: cheesecake on a stick, dipped in chocolate and BoJo Pops, caramel pecan and vanilla ice cream on a stick.
Early promotional efforts will include free T-shirts, depicting BoJo's signature 2-pound banana splits.
Before his latest venture, McAllister operated Giering's Ice Cream in New Middletown.
The new BoJo's in Boardman, directly in front of Boardman Lanes, also will offer on-site seating with picnic tables and benches.
McAllister and Evan plan to start hiring full- and part-time staff at both locations in two weeks. Some of that work will be permanent, while most will be seasonal, best for high school and college students, McAllister said.
Business in Austintown has increased in recent weeks, and McAllister said he feels Market Street will only help his bottom line with the growing traffic there.
The Boardman location is currently being renovated. The partners have spent between $15,000 and $18,000 on new equipment, paint and other features, they said.