Tri-County Golf Classic? Of course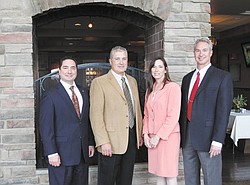 Photo
Robert K. Yosay | The Vindicator The Tri-County Golf Classic will take place June 24 at The Lake Club in Poland. Working to make the charitable event a success are, from left, Joe Nohra, John Hirschbeck, Pam Berry and Dr. Charles Yourstowsky. The annual event benefits American Cancer Society programs in Mahoning, Trumbull and Columbiana counties.
Staff report
POLAND
Golfers will have a chance to enjoy the game and do their part to fight cancer during the 15th annual Tri-County Golf Classic on June 24 at The Lake Club, 1140 Paulin Road.
Proceeds will go to the American Cancer Society to provide support services and programs for cancer patients and their families in Mahoning, Trumbull and Columbiana counties as well as research and early detection programs.
Activities begin at 10 a.m., followed by lunch at 11. Tee off is scheduled at noon.
The tournament will feature a VIP welcome with private registration and gift lounge; green and cart fees; full access to all club facilities; deluxe sponsor souvenir gift package for all four players; lunch, dinner, awards, reception and all beverages; and tee sponsorship with sign.
The honorary chairman for the event is John S. Gulas, president and chief executive officer of Farmers National Bank and Farmers Banc Corp.
This year's honoree is John Hirschbeck, an umpire in Major League Baseball for more than 28 years and crew chief.
Sponsor and player package levels follow:
• Awards dinner sponsor, $12,500.
• Lunch sponsor, $7,500.
• Cocktail reception sponsor, $7,500.
• Wine and roses sponsor, $5,000.
• Gift bag sponsor, $5,000.
• Team sponsorships benefactor team, $5,000.
• Golf ball sponsor, $2,500.
• Cart sponsor, $2,500.
• Patron players $2,500.
• Friend player, $1,250.
• Contest sponsor, $750 (long drive, chipping or putting contests).
• Table sponsors of $300 for four or $1,000 for eight for the cocktail reception and awards dinner.
Chairman is Dr. Charles Yourstowsky.
Executive committee members are John Beilby, WFMJ-TV 21; Ray Briya and Chrissy Dundics, MS Consultants Inc.; Greg Gett, Packer Thomas; Stephanie Hunter, Via 680 LLC; Bill Kelly, Clear Channel Radio; Greg Krieger, OptionCare; Rodney Lamberson, Strollo Architects Inc.; John Moliterno, Pegasus Printing; Amy Noll, Simon Property Group; Greg Strollo, Strollo Architects; Joe Thomas, Golf Headquarters; and Dr. Yourstowsky.
Committee members are Joe Fanto, Chase Bank; John Finizio, Humility of Mary Health Partners; Dr. Nancy L. Gantt, St. Elizabeth Health Center; Bill Hendricks, Professional Engine Systems; Craig Olson, Olfield Graphics; Jason Pridon, The Muscle Connection; Dan Rivers, Clear Channel Radio; Carolyn Shaffer, Superior Beverage Group; Tim Shaffer, Farmers National Bank; William Weimer, B.J. Alan Co.; Danny White, Home Savings and Loan Co.; Samuel A. Roth, Sam Roth; and Stan Catullo, Catullo Prime Meats.
Pamela Marshall is a staff member. For more sponsorship details or other information, call her at 888-227-6446.