Mr., Mrs. Baker mark 65 years of marriage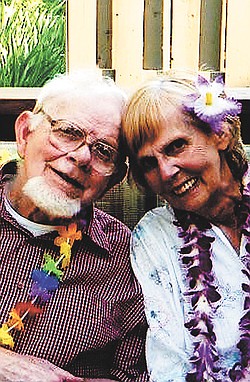 Photo
Mr. and Mrs. Charles Baker
HUBBARD
Charles and Dolores Baker of Hubbard are marking their 65th wedding anniversary today.
Charles and the former Dolores Miller were married April 21, 1948, at St. Patrick Church.
The couple are the parents of nine children: Charlotte (Jim) Lanz and Michael (Barb) Baker of Hubbard, Nance (Bill) Hoza and Paula (Mike) Lynch of Columbus, Jennifer Skowron and Lori (Chuck) Hillman of Boardman, Karen (Dan) Carioti of Cortland and Lisa (Dave) Hill of Cuyahoga Falls. A son, Richard Baker, is deceased.
The Bakers also have 20 grandchildren.
Mrs. Baker is a member of Disciples of Mary at St. Patrick Church.
Mr. Baker retired in 1987 as a machinist for Saw Hill in Sharon. He is a veteran of the U.S. Navy.