Vanessa Williams, Mr. Johnson announce plans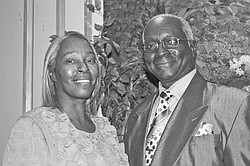 Photo
Vanessa Williams and Robert L. Johnson
Vanessa Williams of Youngstown and Robert L. Johnson of Niles are announcing their engagement.
Parents of the bride-elect are Cleophus Jarmon of California and Jacqueline Brewington of Philadelphia. Mary Elenor Johnson of Warren is the mother of the future groom. His father is the late Ezekiah Johnson.
The couple are planning an open 3 p.m. May 23 wedding at Nevels Temple Church of God in Christ in Youngstown. A reception will honor the couple at 5 p.m. at St. Columba Cathedral. Invitations will be issued.
Miss Williams is a graduate of Youngstown State and Notre Dame universities. She received a bachelor's degree in education. She taught at Eagle Heights Academy and retired as an administrator.
Her fianc studied criminal justice at Kent State University. He is a retired construction laborer.