YSU will be under the lights — and under the microscope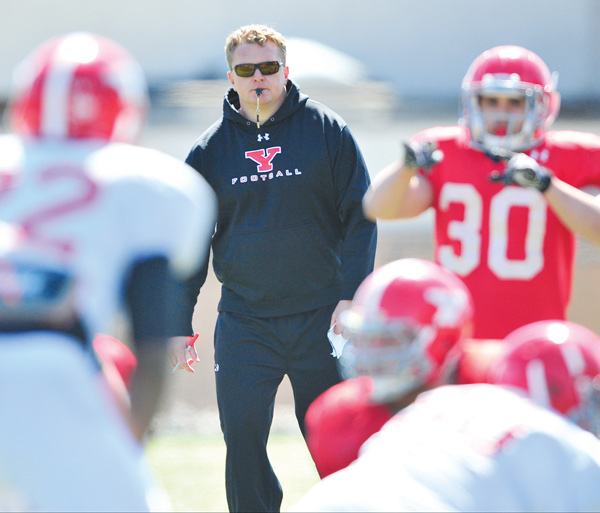 ---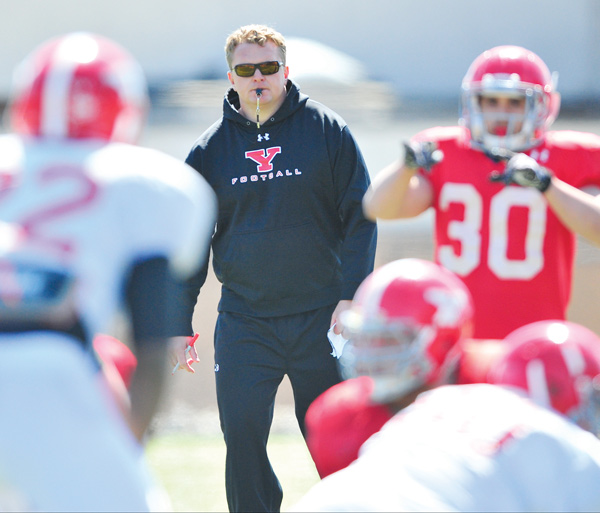 Photo
Youngstown State head coach Eric Wolford watches both the offense and defense during a spring practice session at Stambaugh Stadium. He will be watching more closely tonight when the Penguins play their annual Red & White game at Stambaugh.
By Joe Scalzo
YOUNGSTOWN
For Youngstown State coach Eric Wolford, tonight's Red-White spring game may be less about "Who is in the starting lineup?" and more about "Who is on the bus?"
With the depth chart (mostly) set after 14 practices, several backups will get the chance to make one last impression on the coaches in hopes of proving they belong in the rotation — or, failing that, on the 60-man travel squad.
"If we traveled today, would you be in the top 60?" Wolford said. "The first away game is at Michigan State and right now you're not on the bus. You can tell your parents you'll get them tickets for the game, but you're not on the bus."
Wolford has been pleased with the play of his starters this spring but believes many of his backups are suffering from "redshirt freshmanitis," a relatively new affliction plaguing young players stuck behind established starters such as senior linemen Chris Elkins and Kyle Bryant and senior quarterback Kurt Hess.
"There's a group of them that kind of realized, 'I'm behind this guy, so I've got some more time before I have to play at a high level,'" said Wolford, who rarely dealt with this problem his first two seasons since he was forced to play so many newcomers. "That's not acceptable. What happens if that guy gets hurt?"
Wolford is hoping tonight's game will answer unsexy — but important — questions like "Who is the third-best cornerback?" and "Who is the seventh-best offensive lineman?"
But there are still two big questions entering tonight's game: Who is the backup quarterback, and how will redshirt freshman safety Jameel Smith play?
When it comes to the quarterbacks, Wolford said, "I'm dying to find out myself."
Redshirt freshman Nick Wargo was the early front-runner but is still trying to learn the offense after spending last fall running the scout team. Sophomore Dante Nania, meanwhile, spent the first seven practices at safety and immediately took over the No. 2 spot when he moved back over.
Wargo is more of a pocket passer, in the Hess mold. Nania brings a bigger arm and more athleticism but will probably never have a Hess-like grasp of the offense.
Both players will begin with the White (backup) offense but are likely to get a few series with the starters, Wolford said.
"I want to see what happens when the lights are on," Wolford said. "Hopefully we'll see some good things."
Smith, meanwhile, is the lone newcomer in the back seven. He'll start at free safety, with last year's starter, junior Donald D'Alesio, moving to strong safety.
"Jameel has done well so far," Wolford said. "He's mature. He's been a student of the game. He's very engaged, which is good.
"I hope he has a good day [tonight]."