Poland farmer's market accepting vendors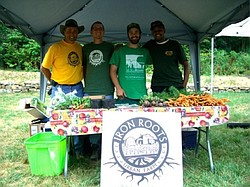 Photo
Neighbors | Submitted.Iron Roots Urban farm will return again this year to Poland's Farmers Market every Friday from June 14 through Sept. 20 from 4 to 8 p.m. The market is now accepting new vendors due to expanded space in Poland Village.
The second annual Poland Village Farmers Market will start June 14 and continue each Friday through Sept. 20 from 4 to 8 p.m. The new location is on Route 170 in the center of Poland Village on the Town Hall lawn. This location has greater visibility and a larger space for more vendors.
Products will range from fruits and vegetables, fresh-cut flowers, honey, preserves, baked goods and other regionally-produced or raised products.
"Last year, we had a fantastic response from the community. There were 16 regular vendors and a total of 2,648 shoppers throughout the season with an average of 300 shoppers each market day. We had regular shoppers from as far as Cortland," said Marcy Black, one of the co-founders.
"People came every week to get their favorite foods or flowers, learn new growing or cooking tips from the vendors, and to visit with friends."
Now on Friday evenings, people can do their shopping at the Village Pantry, have dinner at Kravitz's Deli in the Poland Village Library or at Wittenauer's in the center of Poland and then stay for the movie at Yellow Creek Theater.
The Poland Village Farmers Market is sponsored by Town One Streetscapes, a Poland community group, with the cooperation of the Poland Town Council. They are now accepting applications for new and existing vendors. If interested, contact Robin Uler at 330-757-4103 or Marcy Black at 330-651-6158.