Sister Patricia changing roles at Beatitude House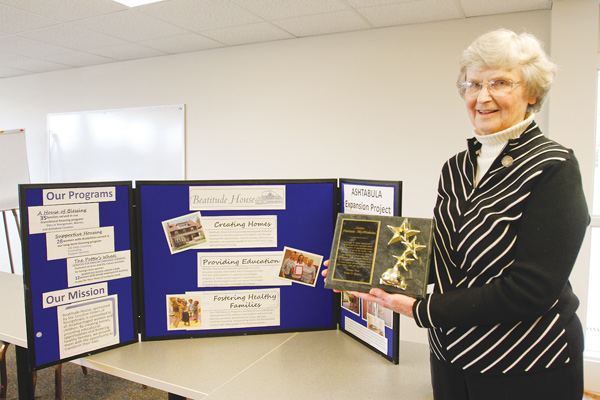 ---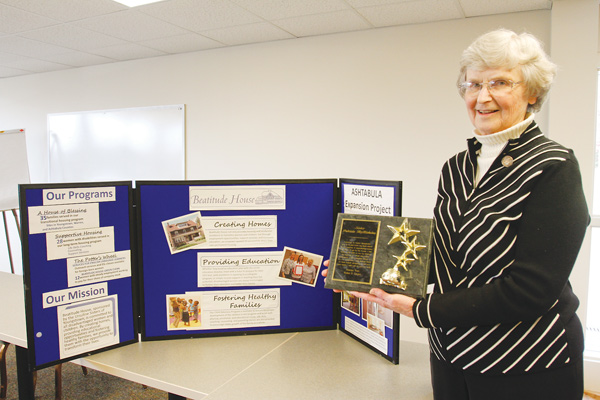 Photo
Sister Patricia McNicholas is leaving her position as executive director of Beatitude House. At left, she's holding an award she received from a woman who wrote how Beatitude House changed her life for the better.
By LINDA M. LINONIS
Youngstown
Sister Patricia McNicholas uses a gift from God to tell the Beatitude House story.
She'll put her ability of connecting with people to use as she speaks to individuals, groups and organizations in her new role as senior development director that focuses on funding. She's leaving the position of executive director that she's had since 2001.
"I'm able to frame the story of Beatitude House to enable people to understand and connect," she said. "I convey the idea that strengthening these families only strengthens, energizes and reaches out to the whole community."
Beatitude House's mission is to help homeless mothers change their futures through education and transitional housing.
During her 17 years with the ministry, much has been accomplished. This includes 689 children and 348 mothers who have transitioned from homelessness to stable lives and the expansion of Beatitude's housing program.
Her special memories revolve around children who call, text and come to her door. She recalled an 8-year-old boy in the first family who entered Beatitude House.
"By the time he was 8, he had witnessed domestic violence, been in a shelter and found his father dead of a drug overdose," Sister Patricia said.
At the 15th anniversary of Beatitude House, he told the audience how Beatitude House allowed him "to be a child" and have stability. Sister Patricia recalled him saying this "changed his view of the world." He graduated from Youngstown State University. His mother became a physical therapist
Another woman, a junior social-work major on the dean's list at YSU, had been incarcerated and lost custody of her twin daughters. A graduate of Beatitude's transitional housing program, she gave Sister Patricia an award to thank her. In a letter she wrote, "It's fair to say Beatitude House saved my family and helped me evade recidivism ... my thinking has been reconditioned, my family structure has improved, our stability is enhanced, and I have been exposed to a new way of living life."
Sister Patricia, who marked her 50th anniversary as an Ursuline nun in 2012, will celebrate her 70th birthday in June. "I was 10 years old when I realized I wanted to find God," she said.
Sister Patricia said when she was received into the Ursulines in 1962, they wore habits,but now they wear everyday clothing. She's been a part of the Ursuline tradition and change. "We all got elementary education degrees," she recalled about being a young nun. She said her teaching skills have helped her throughout her career by being able to break down tasks into what she has to accomplish, what materials she needs and how to go about completing the task. The Ursulines are dedicated to the vision of the founder, St. Angela Merici, "to transform the lives of women and children."
She received the Athena Award in 2005, and she believes that recognition benefited the ministry. "It helped Beatitude House be perceived as an agency that serves the whole community," she said.