Cafe Cimmento will close Saturday
---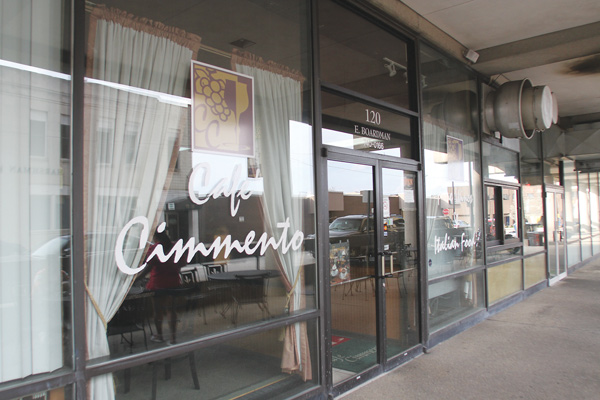 Photo
Cafe Cimmento, 120 E. Boardman St. in downtown Youngstown, will close Saturday.
YOUNGSTOWN
Cafe Cimmento, which first opened in 2006 to serve the growing crowds attending events at the Covelli Centre, will close its doors after dinner service Saturday.
Owner George Mager, who chose his mother's maiden name for the cafe, said it was the right time to call it quits.
At age 64, Mager said he is nearing retirement. His son, Jonathan, currently the head chef, was offered an employment opportunity that he couldn't pass up. Without Jonathan, Mager said he no longer wanted to run the business.
Located at 120 E. Boardman St., the restaurant offered an extensive wine list and a fine-dining experience on the edge of the city's downtown. Mager said a large factor in his decision to close was the abundance of new restaurants that have opened along West Federal Street in recent years. They "took a piece of the pie," he said.
Though he acknowledged the city's downtown is on an economic upswing, he said it was too costly and too late in life to open another location somewhere else downtown.
He'll focus on his golf game and look for part-time work after Cimmento's closes.
Most of the restaurant's staff, Mager said, are family, and they've known about his decision for some time now.
Cafe Cimmento will keep regular hours until Saturday when it opens for breakfast and dinner for the last time.
Mager was leasing the building.
"We're off the beaten path down here," Mager said. "Hopefully, all our loyal customers hear about the news and come out for one last night. I'll probably buy everyone drinks."