Diesel Cruze will get 46 mpg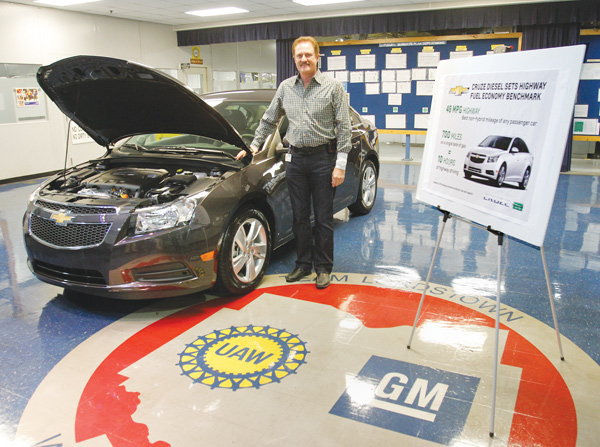 ---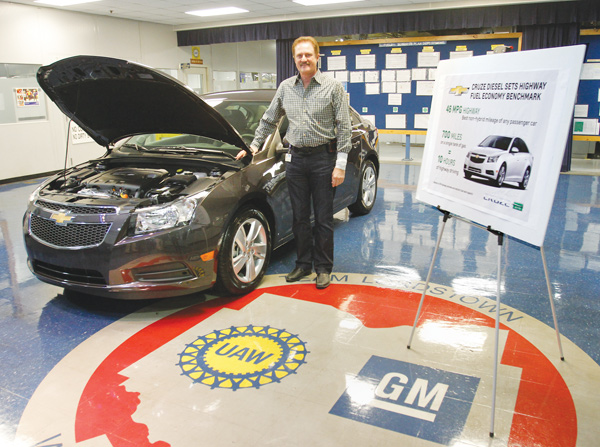 Photo
Gary Altman, chief engineer of Chevrolet's 2014 Cruze Clean Turbo Diesel, stands with one of the models at GM Lordstown on Thursday. The model will begin arriving at major metropolitan dealerships in May and others across the country and in Canada by this fall.
Lordstown
Excitement over the Chevrolet Cruze Clean Turbo Diesel is building at General Motors Co. and Lordstown, with the company announcing Thursday that the new model will get an industry-leading 46 miles per gallon.
Although the current average price of diesel gasoline in the U.S. is $3.94 per gallon — 43 cents more than a gallon of regular-grade — GM officials believe the model is poised to sell in droves as the first domestic diesel sedan to hit the market since the 1980s.
"I think demand will be a lot higher than we thought," said chief engineer Gary Altman on a visit to the Lords- town complex to show off one of the first saleable units expected to hit major metropolitan markets in May.
Workers at Lordstown began producing the diesel Cruze this week, after months of building prototypes for review. The diesel Cruze, expected to get 700 highway miles on one tank of diesel fuel, or 10 hours of highway driving, will go head-to-head with Volkswagen's popular diesel Jettas and Passats in a segment of the domestic automotive market that saw clean-diesel sales increase by 25 percent last year.
Chevrolet has sold more than 2 million Cruze models globally since it was launched in 2010, making it an easy choice to debut the North American diesel Cruze. A larger engine block will only slightly modify things for workers on the assembly line.
Tom Mock, plant communications manager, said the new model is a significant milestone for Lordstown, where workers learned last Friday that they were among GM's premier quality manufacturing sites — a first for the facility.
Initially, it was thought the diesel Cruze would get at least 42 miles per gallon, but the company revised that figure Thursday, with GM officials saying drivers could get up to 50 miles per gallon if they drive the car efficiently.
Little has changed in the vehicle's overall appearance, but a quiet, smooth performance is aided by a number of engine and sound- absorbing features specific to the diesel Cruze.
It either beats or matches segment rivals, with an estimated 148 horsepower and 258 pounds per foot of torque.
Its 2.0-liter engine has an overboost feature capable of increasing torque to an estimated 280 pounds per foot for short bursts of stronger acceleration on the highway.
With a suggested retail price of $25,695 and early incentives including a longer, five-year 100,000- mile powertrain warranty and a two-year maintenance plan, the diesel Cruze will be about $700 cheaper than the VW Jetta TDI.
The vehicle will be available nationwide and in Canada early this fall.