---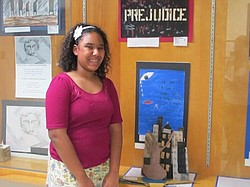 Photo
Neighbors | Natalie Scott.Emily Kahn is pictured next to her sculpture (bottom right) which is based on the book "The Island on Bird Street" by Uri Oriev.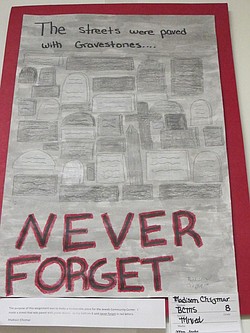 Photo
Neighbors | Natalie Scott.This drawing by Madison Chizmar depicts the graves that were used to pave streets and Leo Silberman's experience in the Holocaust at the art show April 11.

Photo
Neighbors | Natalie Scott.This painting by Boardman Center Middle School student Stacey Fils symbolizes the bloodshed and terror that the Jewish community faced during the Holocaust.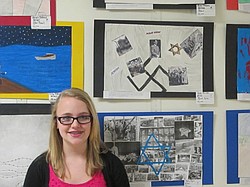 Photo
Neighbors | Natalie Scott.Sarah Pavalko is pictured next to her artwork (top right) representing the horrific events of the Holocaust at the art show at the Jewish Community Center April 11.
By NATALIE SCOTT
Seventh- and eighth-grade students at Boardman Center Middle School participated in an art show to honor and remember the Holocaust. The works were on display in the Jewish Community Center for the first time April 11 for the public to view. There was also a reception for the students to greet patrons and talk about their art.
"For many students, the lectures and dialogue we participated in prior to the art show is their first experience with the Holocaust and the troubles in Israel," said Lori Szoke, the art teacher at Center Middle School, who along with English teacher Jesse McClain, organized the art show. "Our goal is to keep the remembrance alive and through doing that, hopefully prevent this kind of tragedy from ever happening again."
The art show started as part of a school project on the Holocaust. Leo Silberman, a Holocaust survivor and resident of Cleveland, gave a lecture at the middle school on his time in the Plaszow labor camp, which is located outside of Krakow, Poland. He told the students about having to help raze Jewish tombstones and laying them in the dirt to pave a road for Nazi vehicles, a scene depicted in several students' artwork. Students also studied Israel and the events that have ravaged the country.
"We read a book titled 'The Island on Bird Street.' It's by Uri Oriev," said Emily Kahn, a Center Middle School student who created a sculptured based on the book. "I wanted to show Tel Aviv, so I went with a city theme. The tree in my sculpture means life and I included a star, which represents the Star of David."