Published: Fri, April 19, 2013 @ 12:08 a.m.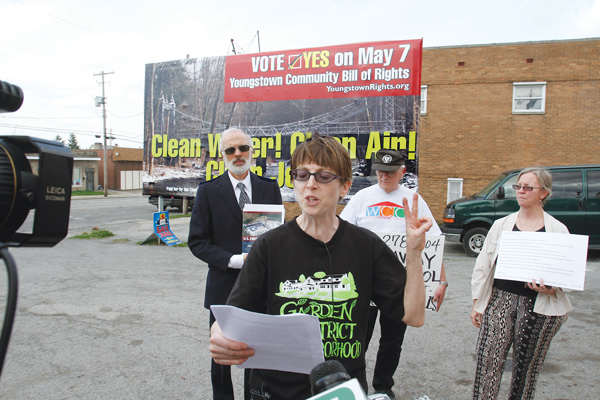 Photo
Supporters of an anti-fracking charter amendment on Youngstown's May 7 ballot unveil billboards. Lynn Anderson, front, spoke Thursday in support of the amendment. Behind her, from left, are Tom Cvetkovich, Jack Slanina and Susie Beiersdorfer. This billboard is on South Avenue.
YOUNGSTOWN
Supporters of an anti-fracking charter amendment in the city unveiled two billboards in their campaign to persuade voters to cast ballots May 7 for the issue.
Members of Frack Free Youngs-town also urged registered voters in the city to cast ballots early for the "community bill of rights."
"We have to protect ourselves," said Lynn Anderson, a Frack Free member, Thursday in front of one of the billboards on South Avenue, near Dewey Avenue in the parking lot of Crim's Corners South Avenue Gas Mart.
She called fracking "an unregulated, deregulated dangerous industry."
Frack Free members said they received many donations of $2 to $5 to pay for the two billboards — the other is on Meridian Road, just south of Interstate 680 — but those at Thursday's press conference said they didn't know how much was raised.
Anderson pointed out that the charter amendment, if approved, would also make it illegal to harm the city's drinking-water source, the Meander Reservoir, which isn't located in Youngstown.
Alan Wenger, a member of the Mahoning Valley Coalition for Job Growth and Investment, an organization working to defeat the charter amendment, said the proposal isn't enforceable.
When asked about Meander, Wenger said, "Why don't they shoot for the Atlantic Ocean while they're at it? They can't force anything in the city, let alone outside Youngstown."
The state controls all fracking in Ohio, and the charter amendment wouldn't be enforceable, if approved, said Wenger, an attorney with Harrington, Hoppe & Mitchell and chairman of the law firm's oil and gas practice group.
But if the issue passes, "it will be very bad for economic development in the area," he said. "Anyone reading [the ballot language] will think we're a bunch of idiots. They will also think, 'Why would we do business in a city that passes a law like this?' They can go elsewhere and not have to deal with an unenforceable, radical, an anarchistic law that would require them to file lawsuits."
Tom Cvetkovich, a Frack Free Youngstown member, said the law is enforceable.
"While I completely understand the importance of jobs, it doesn't outweigh the need for clean water and clean air," he said.
Mayor Charles Sammarone agrees with Wenger that the proposal isn't enforceable, but the provision forbidding a corporation to produce and deliver pipelines or other equipment used in the extraction of shale gas or oil in the city would mean V&M Star, which spent $1.1 billion on an expansion project in the city, couldn't operate. V&M makes pipes for the gas and oil industry.